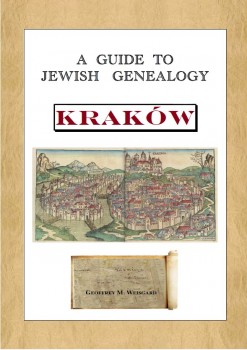 Gesher Galicia has co-published its first book in association with British researcher, Geoffrey Weisgard. This useful, easily readable, guide to Kraków provides a short history of Jewish settlements in the town and in Kazimierz, which was originally a separate locality before being included in Kraków proper. It also explores research opportunities in Kraków, providing detailed suggestions on how to add more names to your Galician family tree.
Cost, including Shipping & Handling, as follows:
U.S.A. $13.00
Canada $15.00
United Kingdom $13.00*
Europe, Israel $17.00*
*Will be shipped from the United Kingdom
Payment Options:
Check or Money Order – in U.S. Dollars drawn on a U.S. bank, made payable to and mailed to:
Gesher Galicia, Inc.
c/o Ann Harris, Treasurer
1522 S. Point View
Los Angeles, CA 90035 USA
Credit card or PayPal – Make payments to our verified account on PayPal's secure web site. You will not need a PayPal account to pay with a credit card. Click here.