14 Years of The Galitzianer
This CD contains complete PDF files for all issues of The Galitzianer published between February 2001 and August 2007. In addition, it includes PDF files for all of the material available in electronic form from most of the remaining issues since Fall 1993 (the first issue published).
The CD may be browsed and electronically searched. You will need a very recent version of Adobe Reader, which can be obtained — free — from www.adobe.com.
You will find directions for accessing the issues in the Instructions.html file on the CD.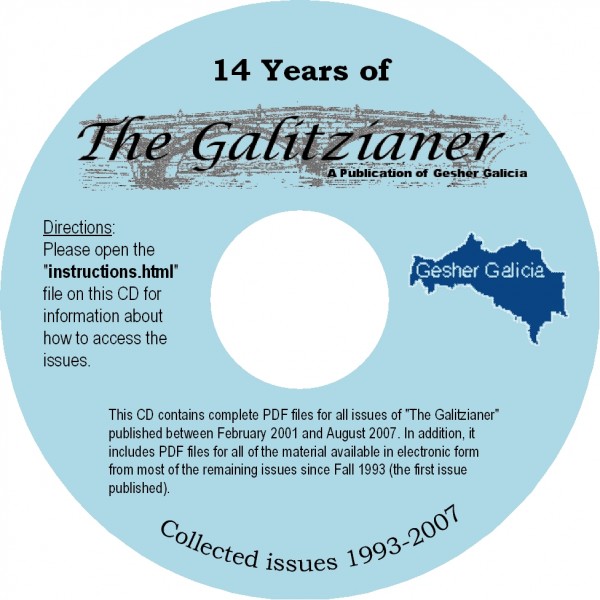 From the editor of The Galitzianer, Ed Goldstein, a few words about The Galitzianer for those not familiar with it:
It is published four times a year. The typical issue will be 24 pages and contain town reports; a long column by our research coordinator, Pamela Weisberger, reporting on news about research activities and results; a review of a book of interest to Galician researchers; several feature articles and news about Gesher Galicia events. Authors are typically, but by no means always, members of Gesher Galicia. Non-member authors like Brian Lenius writing about Cadastral maps, or Professor Piotr Wrobel contributing a three-part article on "The Jews of Galicia" or a two-part article on "The Seeds of Violence" provide unique viewpoints. Many issues contain lists of names, such as that of "Girls Enrolled in Tarnow Trivium School in 1854″ or "Portrait of a Landsmannschaft: List of Members of the Nadwornier Landsmannschaft" can provide unexpected clues to Galician researchers.
For more information and to order the CD, click here.