Meeting Type: Regional Meetings / Meeting Year: 2013
"Cadastral Maps, Landowner, School, Voter & Tax Records: New Horizons for Genealogists" – Washington, DC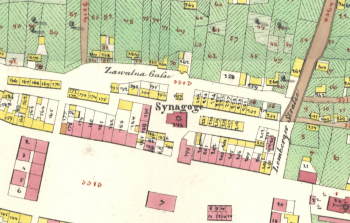 Sunday, November 3, 2013– 1:30PM – Gesher Galicia Regional Meeting in Washington, DC, sponsored by the Jewish Genealogy Society of Greater Washington
Location:
B'nai Israel Congregation
Fanaroff Hall
6301 Montrose Road
Rockville, MD 20852
Cadastral Maps, Landowner, School, Magnate & Voter Records: New Horizons for Genealogists 
Galician (Austrian, Polish and Ukrainian) cadastral, property, school and voting records are valuable genealogical resources, especially when vital records are sparse. Historical maps show locations of synagogues, cemeteries, and schools, often with the names of landowners written onto the plots.  Using Gesher Galicia's database and interactive mapping portal, you can chart a family over several generations.  Landowner records show property valuation/inheritance patterns and voter records document the residents of a single dwelling, showing ages, occupations and place of birth. This presentation will cover their relevance as an alternative source of genealogical/community information and will also highlight other unique records that are now part of the "Galician Archival Records Project," such as "people who suffered during the war" and magnate records, which illustrate the relationships between Polish (and Jewish) nobles and the Jews who ran their mills, taverns and inns. Be prepared to expand your view on how these insightful — and accessible — documents can to bring your ancestors to life.
Location TBA. More info: www.jgsgw.org.
Pamela Weisberger the 1st V.P. and program chair for the Jewish Genealogical Society Los Angeles, president and research coordinator for Gesher Galicia, Inc., and was co-chair of the 2010 IAJGS International Conference on Jewish Genealogy.  A professional genealogist, writer, and internationally-known lecturer, she has conducted research in Polish, German Ukrainian, Hungarian and Austrian archives. She created the Galician Archival Records Project and the Gesher Galicia Cadastral (Virtual) Map Room.  One of her specialties is historical newspaper research.  She holds a B.A. from Washington University in St. Louis and an M.S. from Boston University.