/ Meeting Year: 2014
The HORN Identity: Historic Academic Records Re-Construct the Lives of Two Galician Sisters from Rohatyn
Ra 'anana, Israel May 14, 2014 at 7:30 p.m.
Community Centre
Beit Fisher, 5 Klausner Street
Ra'anana, Israel
The HORN Identity: Historic Academic Records Re-Construct the Lives of Two Galician Sisters from Rohatyn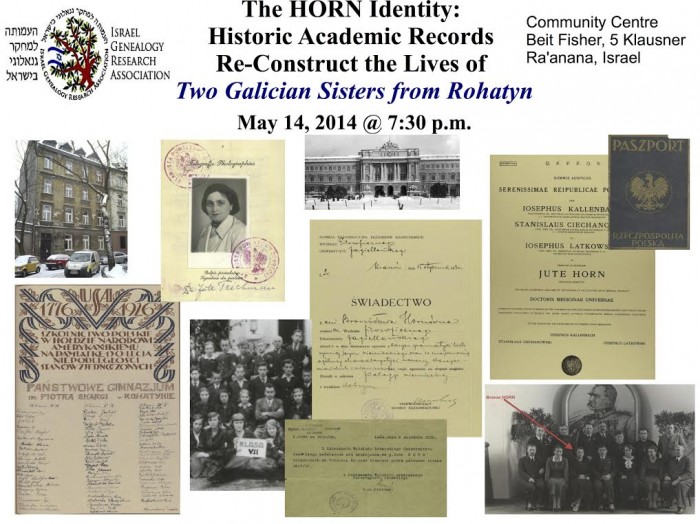 Through records discovered in university and state archives across Europe, Ukraine, and Israel, the lives of Jüte and Bronia Horn, two sisters from the eastern Galician town of Rohatyn, will be traced, from their childhoods in Rohatyn on the eve of the downfall of the Austro-Hungarian Empire, to their inter-War student years in Vienna, Krakow, and Lwow, through their departures for Palestine and America. Academic records – a resource not commonly considered by genealogists – are an unexpectedly rich source of personal data, including correspondence and addresses, and can provide leads for post-University employment and even emigration. The benefits to genealogists of viewing family data within the larger historical context (here, the inter-War years leading to WWII) will also be examined as a tool for better understanding why certain life decisions were made, either for them by their families, or autonomously by Jute and Bronia as educated Galician Jewish women.
Hosted by the Israel Genealogy Research Association, Ra'anana Branch.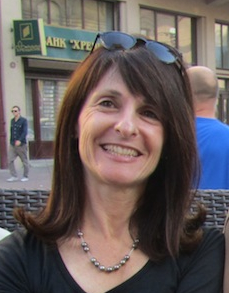 Marla Raucher Osborn, Gesher Galicia Board member and former California attorney, has written and lectured internationally about her research and travels across Poland, Ukraine, and Moldova. She is the project lead for the Rohatyn Shtetl Research Group's Jewish headstone recovery and memorial project. She has spoken at past IAJGS conferences about Galicia, Rohatyn, and her own family research, and is a regular contributor to several Jewish genealogist and preservationist digests. In 2012 and 2013, Marla spoke to high schoool students in both Poland and Ukraine, and participated in a French documentary film on Jewish heritage travel in Galicia. Marla also took part in a conference on Managing Jewish Immovable Heritage in Kraków. In summer 2014, Marla and her husband return to Poland after spending two months in Israel.