The Austrian Archives Project
The various branches of the Austrian State Archives are extremely valuable repositories of unpublished source material on Galicia and Bukovina. In spite of the wealth of their holdings, these archives have been little explored by Galician researchers. In 2011, Gesher Galicia started collecting documentation from two of their archives: the Staatarchiv (state archives) and the Kriegsarchiv (war and military archives).
There are documents in the Staatarchiv that tell of life in every shtetl that was governed by officials in Vienna. From complaints about the rabbi to a scribe asking for a higher salary, there is coverage of every town in Galicia. There are also "global" lists of Jewish schoolteachers assigned to every Galician town that had a Jewish congregation, dating to 1790 by "Kreis" or circle (administrative district) and inventories of every synagogue in Galicia by town, listing the names of the head of the kahal, the rabbi and cantor, which include details such as whether the town had a ritual slaughterer, a mikvah, etc.
In 2011 Gesher Galicia began collecting documents held in the Austrian State Archives, which involve the Jewish residents doing business, issuing complaints to the state, entering into contracts and asking for dispute resolution. Each set of documents was copied if the names of the Jewish residents were present and this project will extract the names from the records – often ten or more pages long – to place a person in a town in a certain year. Written in German – and sometimes typed – we will also begin translating, or summarizing the content of the document, with a goal of having interested parties sponsor a full translation.
In one document the Jews of the town felt that they were bring slandered, and we see the original signatures of over 50 of the town's residents: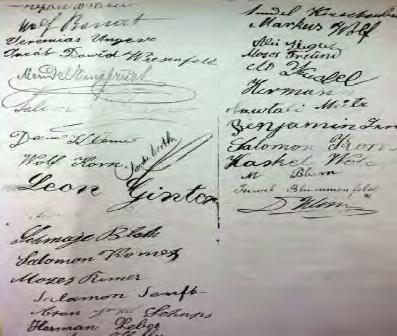 In another we have a list of Jewish schoolteachers assigned to the newly-formed German-Jewish Schools established in 1790: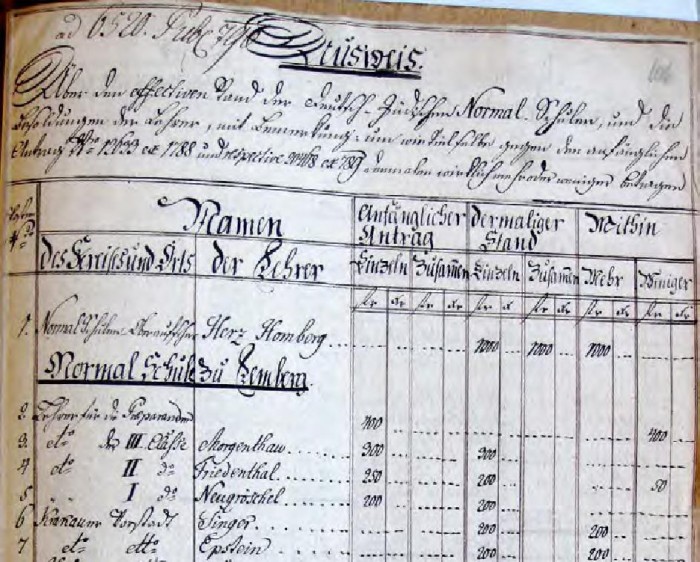 We plan to inventory these records by town, date and names to create a searchable database with images available to view.
In the Kriegsarchiv in Vienna we obtained scans of WWI photos of many Galician towns providing an eyewitness portrait of life in the villages and shtetls. An example of one of the photos, from the town of Buczacz, is shown below:
This project continues in April 2013 with additional research to be done in the archives. Any town that is part of GARP will automatically be added to the list of towns whose documents we will also try to get copied in Vienna.