Galician Refugees Directory Project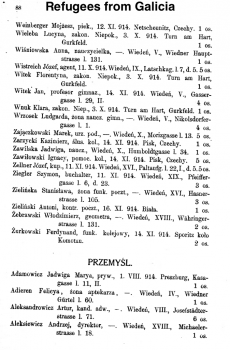 Gesher Galicia has decided to index all the names of Galitzianers from a book, in three volumes, that details Jewish refugees from towns in Galicia to other parts of the Austro-Hungarian Empire (many to Vienna) in 1914-15, the time of the outbreak of the First World War. The title, in Polish, is: Księga pamiątkowa wygnańców wojennych z Galicyi i Bukowiny 1914-1915 oraz album pamiątkowa [Commemorative book of refugees from war from Galicia and Bukovina 1914-1915, and commemorative album].
In light of the centenary of the start of the war, Gesher Galicia is planning a project to transcribe the approximately 18,800 entries, representing some 60,000 refugees families. Only the head of a family group is named in the records, along with the number of people in that family, making it function in a similar manner to a census.
Thus far, the entries for Tarnopol (298 entries, for 951 refugees) and Zbaraż (36 entries, covering 124 refugees) have been completed by Gesher Galicia vice-president Tony Kahane, and the results will soon be uploaded to the All Galicia Database. Along with the given name and surname, number of people in the family, full addresses and country destinations are provided along with occupations in Polish in abbreviated form. These will be translated into English. Gesher Galicia is looking for volunteers to help with this indexing.
The book has been digitized and put online, in DJVU (an application one can download for free) format, by the Śląska Biblioteka Cyfrowa (Silesian Digital Library), and possibly others. The volumes with their URL addresses are:
The book was published in Vienna in 1915 and is in Polish throughout. You can download the entire volume in djvu format to your compute and do OCR searches.
Contents of Volume 3: Galicia and Bukovina
Volume 3, which covers the rest of Galicia (apart from Lwów and Kraków) and Bukovina contains over 700 pages. There are some 87 pages of a general introduction, and then a long series of articles (in Polish) on the different destinations that refugees went to, including: Moravia, Bohemia, Lower Austria (including Vienna) and Upper Austria, Salzburg (province), Tyrol, Styria, Slovenia, Trieste and Hungary (including present-day Slovakia and Croatia). There are then more introductory pages on some of the places in Galicia the refugees passed through, including on Drohobycz and Krosno. After almost 90 such pages, the list of addresses proper begins. First, 238 pages are devoted to the main towns from which the refugees came, in alphabetical order, with an alphabetical list of surnames for each town. These towns are: Biała, Bochnia, Brzeżany, Buczacz, Drohobycz, Gorlice, Gródek Jag., Jarosław, Jasło, Jaworów, Kołomyja, Krosno, Nowy Sącz, Rzeszów, Sambor, Sanok, Śniatyn, Sokal, Stanisławów, Stryj, Tarnopol, Tarnów, Trembowla, Wadowice, Wieliczka, Złoczów, Żółkiew.
After that, 338 pages cover "the rest of Galicia" in one section – and with each entry, the particular town of origin is given. There then follows the section on Bukovina, first with Czernowitz, and then the rest of Bukovina. On each page of addresses throughout the book, there about 22 names listed. There is also a short "stop press" section, with names received at the last moment – and this contains one Tarnopol entry and one Zbaraz entry (which Tony included in the spreadsheets already completed). Finally, there are quite a few pages of the "album", with photos of some of the places across Austria-Hungary where the refugees went to, along candid photos of the marketplaces, castles and manors of shtetl towns. There are also pages of advertisements for a variety of businesses, restaurants, and medical practices.
Scope of entries and refugees:
Vol. 1. Lwow: estimated 4,600 entries (that is, people named as representatives of their group), [estimated 14,700 refugees in total]
Vol. 2. Krakow:1,700 entries [5,400 refugees]
Vol. 3. Everything else in Galicia: 12,500 entries [40,000 refugees]
There are around 18,800 entries (representing around 60,000 or so refugees) for Galicia, in these three volumes. In addition, there are around 450 entries for Bukovina (about 1,450 refugees) at the end of Volume 3. When completed this will be a fabulous resource for Gesher Galicia.
If you are interested in helping to fund the indexing, or taking on a town of your own to index, please contact pamela@geshergalicia.org