Interview with Shlomo Kahane
born in Grzymalow, Ukraine
Shlomo Kahane, was born Salomon Kahane in 1923 in Grzymałów (Гримайлів, Hrymailiv, Grzymalow, Rimalev, רימאלאוו) a small town near Skalat, Ukraine, which was formerly Galicia, and then Poland. He left Grzymałów for Palestine with his parents when he was a teenager, but his other relatives stayed behind. (His uncle was David Kahane, and author of "Lwow Ghetto Diary," who was hidden by the Ukrainian archbishop of the Uniate Catholic Church in Lwow. Shlomo's father Pontiel Kahane was David's brother. Another uncle, Wolf Kahane, survived the war hiding in the forests near Grzymalow, and was the grandfather of Will Kahane who shot the documentary, "House Number Seven," about his return to Grzymalow in 1996.) Shlomo served in the British army and resided in Tel Aviv. In this interview, conducted in January 2014, he recounted growing up in Grzymalow, life in nearby towns and villages, the tenor of shtetl life in the 1920s and immigration to British Mandate Palestine. This was the first video interview he had given. Shlomo passed away in the fall of 2014. May his memory be a blessing. ( The interviewer was Zack Oryan Orasz and the videographer was Robby Berman.) It is entirely in Hebrew, but Gesher Galicia plans to subtitle it in English soon.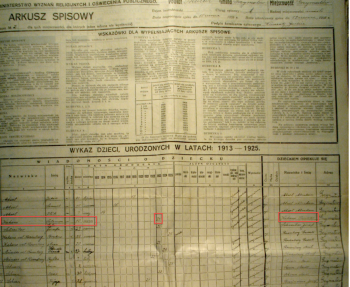 More on the Kahane Family
In the Ternopil, Ukraine archive Gesher Galicia discovered a document listing all of the school age children in Grzymalow, created for a Polish authority in the 1920s, which serves as a "children's census." We were delighted to find Shlomo's listing on the page pictured here. (Click to enlarge.) It shows him birth date and parent/guardian and we were happy to share it with him. (The details have been indexed and are searchable on the All Galicia Database: http://search.geshergalicia.org.)
At age 91 Shlomo leads an active life in Tel Aviv. You can see him performing as a violinist in this YouTube video: http://youtu.be/65vKprHm45Y
Will Kahane was the last Jewish child born in Grzymalow in 1945, but left when he was three months old and returned for the first time with a group of Holocaust survivors, lead by Chaim Braunstein, to commemorate two Holocaust memorials in the neighboring town of Skalat in 1996. He was able to visit Grzymalow at that time in an effort to find the house (number seven) where he was born. You can watch Will Kahane's video, "House Number 7″ here: http://vimeo.com/18099758
There is a video interview with Rabbi David Kahane, author of "Lvov Ghetto Diary," on the US Holocaust Memorial Museum's website. It was conducted on March 27, 1991, for the Israel Documentation Project, but only recently made available.
David Kahane was born in 1903 in Grzymalow (Galicia/Ukraine today) and was a former rabbi in Warsaw. He and his family were hidden by Metropolitan Archbishop Andrei Sheptytskyi in Lviv during the war, and later he became the Chief Rabbi for the Polish forces in the territories liberated from the Nazis. In 1950 he immigrated to Israel, and in 1966 he was named the Chief Rabbi of Argentina. You can view an interview (in Hebrew) with him here:
http://collections.ushmm.org/search/catalog/irn502645
Kahane discusses daily life in Grimaylov, Galicia (present day Ukraine); studying to become a rabbi; teaching high school in Lvov, Poland from 1929 to 1941; the German invasion in June 1941; German violence against the Jews; the burning of synagogues in August 1941; secret worship in homes; the Judenrat and its role in determining deportations; being deported to Janowska; living and working conditions in the camp; the Jewish police; the observance of holidays in the camp; escaping the camp and hiding in a Greek Orthodox monastery; German crimes in Lvov; mass killings; meeting with a Gestapo man named Blum after the war; and the fate of his friend Rabbi Jecheskel Levin.
You can read more about the "Lvov Ghetto Diary" here: https://www.umass.edu/umpress/title/lvov-ghetto-diary
If you have a personal connection to Grzymalow, please contact: pamela@geshergalicia.org