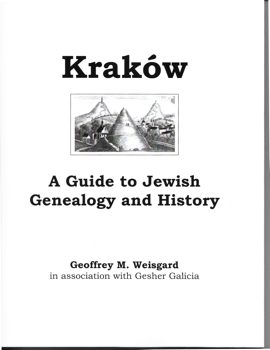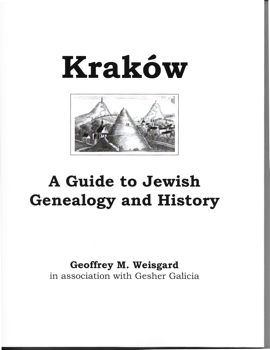 Published by Gesher Galicia, in association with British researcher Geoffrey Weisgard, this highly readable guide to Kraków family history research is an essential tool for all those with an interest in Kraków. The book describes in great detail the wide range of information sources about genealogy and the history of the Jewish communities of Kraków and Kazimierz from the 16th and earlier centuries to the present, and including the Holocaust and the important decades before and after.
This third edition contains much new information that was made public since the last printing in 2015. Many of the new sources have come to light as a result of special interest groups, like Gesher Galicia, and continuing academic research in Poland, Israel, America, and elsewhere. The variety of different sources illustrates the diversity of the Jewish community in Kraków, particularly in the late 19th and 20th centuries.
A lengthy article on the history of Jewish Education in Kraków is included as an Appendix, and there is a comprehensive bibliography and a detailed index. The book also explores research opportunities in Kraków and elsewhere, thereby providing useful suggestions on how to add more names to your own Galician family tree.
Price per book in US Dollars, including Shipping and Handling, is:
Mailed from the USA:
• USA $25.00 USD
• Canada $37.00 USD
Mailed from the United Kingdom
• United Kingdom $26.00 USD
• Europe $33.00 USD
• Israel $39.00 USD
• Australia $40.00 USD