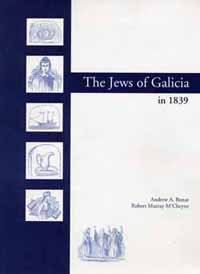 Narrative of a Mission of Inquiry to the Jews from the Church of Scotland in 1839 is an account of the travels of a small group of Protestant missionaries, authorized by their Church to visit Jewish communities throughout North Africa, Palestine, Asia Minor, and Europe.
First printed in England in 1842, consisting of 740 pages, with maps and woodcuts, we have reprinted Chapter VIII, entitled Austrian Poland, better known as Galicia. The authors give a vivid account of the towns, including details of synagogues, trades, problems, education, literacy, tombstone art, and burial customs, for example. Although few individual names are mentioned, one can gain insight into the daily lives of our families who lived in Galicia. Our 82 page book is indexed.
You may access the entire 740 page book through Google and read the chapter online. However, if you prefer to have your own copy as a bound paper book or a CD, you may order it from Gesher Galicia, Inc.
Ordering and Payment Instructions
For Book:
US and Canada $18
Outside US / Canada $22
For CD:
US and Canada $10
Outside US / Canada $12
Payment Options:
Check – in US $ on a US Bank – payable to Gesher Galicia, Inc.
Money Order – in US $ – payable to Gesher Galicia, Inc.
Cash – US $
PayPal – use the address geshergalicia@comcast.net; Put in memo area: The Jews of Galicia in 1839
Send check, money order or cash to:
Gesher Galicia, Inc.
c/o Ann Harris
1522 South Point View # 2
Los Angeles, CA 90035-3912
Put in memo area: The Jews of Galicia in 1839