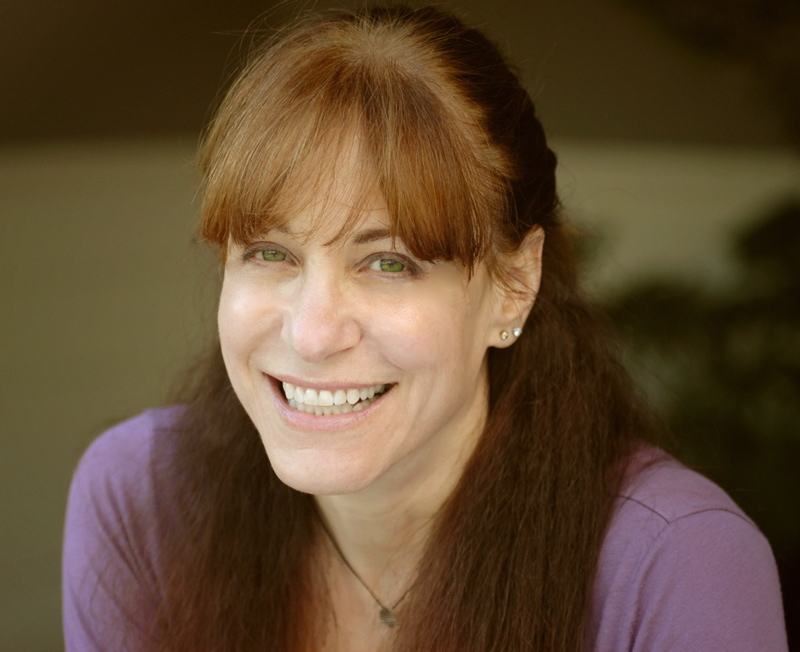 It is with profound sadness that Gesher Galicia announced the sudden death of the president and the creative force behind our organization. Pamela Weisberger died on Friday, September 25, 2015 in Santa Monica after a brief illness. She cannot be replaced.
She will be missed by all of us in the Jewish genealogical community worldwide. She was tireless in her efforts to expand the knowledge and practice of family history research in novel ways that had enormous impacts for so many. She was gracious and fun-loving, tough, reliable, and very funny. We are in mourning for our substantial and devastating loss. She left behind her husband, Ken Kaufman, and her three children, Michael, Nick, and Lily (and husband Nick Coleman) and her brother, Doug Weisberger (and wife Mia and their children).
We know that many in the genealogical community are as stunned and saddened as we are at this terrible news, and we will add their comments and remembrances of Pamela to this webpage, and to a future special issue of our newsletter the Galitzianer. Please e-mail info@geshergalicia.org with any additions.
— The Board of Directors of Gesher Galicia
The Pamela Weisberger Memorial Fund is a partnership between Pamela's family and Gesher Galicia. Contributions will be used to support programs and projects in her memory. Gesher Galicia is a qualified 501(c)(3) non-profit corporation.
Credit card and PayPal donations may be made through the Gesher Galicia website at www.geshergalicia.org/donate. Please enter the Donation Amount and put "Pamela Weisberger Memorial Fund" in the "Enter Note" box. You will receive an acknowledgement from PayPal and from Gesher Galicia.
To donate by check, please make your check (in US dollars and drawn on a US bank) payable to "Gesher Galicia, Inc., FBO Pamela Weisberger Memorial Fund". Please put your email address in the memo section of your check so that we may acknowledge your donation. Send the check to:
Gesher Galicia
3740 Moore Street
Los Angeles, CA 90066

---
Pamela Weisberger Remembered
---
John Diener, Secretary of Gesher Galicia:
In 2002, I attended my first IAJGS conference, which for me, was conveniently held in Toronto. At one of the sessions, I happened to glance at the notepad on the lap of the lady to my left. On it was written "Grzymalow", the name of the shtetl where my late father was born. Of course, I had to ask her what her connection was to this relatively small town. She told me that she had just been there a few weeks earlier, and was connected to the town through her grandfather, who had lived there. This was my first meeting with Pamela Weisberger. On that afternoon thirteen years ago, I could not have imagined the friendship that would develop with this amazing woman, and how involved I would become in the pursuit of Jewish genealogy, in a great part, because of interacting with Pamela.
In the thirteen years since, we have exchanged hundreds of emails, mostly related to Galicia and the pursuit of Jewish genealogy, but certainly not limited to those topics. We were friends as well as genealogical colleagues, so shared stories about our children and their accomplishments, and about life in general. I last heard from Pam only 12 days ago, when she told me in an email that she was dealing with health issues. She added that this was not yet public knowledge, and she provided no details, but I sensed that it was serious. I wished her the best, and told her to concentrate on herself for a change.
Pamela seemed to have endless energy. Whether it was speaking on behalf of Gesher Galicia somewhere in the world, or organizing an event for JGSLA, she gave it her all, and she never stopped. It seemed that she was always going somewhere to lecture and to promote the organisations that she represented so well.
About three years ago, Pamela asked me if I would like to accompany her on a trip to Europe to be held in the spring of 2013. The plan was to start in Vienna, then travel to Warsaw for the exciting grand opening of the newly completed Museum, and continue on to Krakow, where she was to speak at the JCC in that city. From there, we would travel to Przemyśl, before walking across the border into Ukraine. Of course, being in Ukraine, we would visit Grzymalow and Ternopil, two towns so important to our families. It was a wonderful trip, filled with adventure every day. We travelled together by train, plane, and by car, and ate wonderful meals together in amazing places that included the home of the descendant of a Polish count, a Ukrainian truck stop, and at the Dunai's home in Lviv. On that trip, we visited about 10 different archives, and spent a fascinating few hours in the huge Vienna cemetery searching for graves of our relatives.
Pamela used to joke that I was her personal "super-shlepper". At many conferences, I was entrusted with her large suitcase that was filled with Gesher Galicia t shirts, brochures, coasters, tote bags etc. On our travels through Austria, Poland & Ukraine, I often helped her with her very heavy bags. It was an honour and a privilege to be her assistant in these situations, and I was proud of the fact that she seemed to depend on my help. At the Paris conference, she had to leave a session quickly to attend to something somewhere else in the hotel, and in her haste, left her purse behind. I picked it up, and started walking through the conference rooms looking for her. I then had the brilliant idea to telephone her, but of course, her phone was in the purse that I was carrying. Several people were kind enough to point out to me that my purse was ringing.
Like many other people who attended this summer's IAJGS conference, I last saw Pamela in Israel. Alex Feller and I had a great day visiting Masada and Ein Gedi with Pamela before the conference started, and went out with her just about every evening. She always had ideas for the evenings, and for me, who spends a lot of time planning my personal family trips, enjoyed just following around in Pam's footsteps and leaving the planning to her.
Like my fellow Gesher Galicia board members, I am devastated. She cannot be replaced, and will be missed by all of us in the Jewish Genealogical community. Next year in Seattle and all future conferences will be different for me.
To her husband Ken, and to her three children, who so generously shared her with all of us, I want to express my most sincere condolences. Pam's passing is a huge loss for us, but obviously much greater for them. She left us all way too early.
---
Andrew Zalewski, Director of Gesher Galicia:
I continue to reflect with a great sadness on Pamela's passing. She was always so supporting of my research and writings, always refreshingly curious what was the meaning of this or that historical event pertaining to Galicia (even if she already knew this very well). Very open in sharing her knowledge and her many contacts around the globe for which I am grateful. At the same time, her clear thinking, decisiveness, and practical approach how to solve the most esoteric or mundane questions stand high as the example how the leader of the organization should approach the members.
On few occasions, I had the honor of speaking together with Pamela in the events in NYC. She was always generous in her comments to me; when she spoke and then moderated discussion on our favored topic, Galicia, the audience was never bored. Typically, the lunch somewhere in Manhattan was the opportunity for me to appreciate her energy; there was always next trip for her around the corner, another archive to be explored, or another interesting person to meet soon. We were planning our next get together in October: the topic was the planning of the trip to Lviv and Vienna in 2016 and how to merge with GG database, the names from early cadastral censuses. Those are memories of her that I will cherish.
---
The Board of Directors of the Jewish Genealogy Society of Greater Washington:
JGSGW learned today of the untimely death of Pamela Weisberger and we send our condolences to her family, to the JGSLA and to Gesher Galicia. Pamela has been a major force in Jewish genealogy bringing a vision to reality in, among others, the varied and insightful projects of Gesher Galicia. She will be remembered for her boundless energy and her passion in promoting Jewish genealogy. May her memory be for a blessing.
---
Jennifer Mendelsohn:
In June of 2013, I posted my first-ever message to the jewishgen listserv. We had just learned that my husband's 95 year old grandmother, a Shoah survivor from Poland, had two aunts who emigrated to the US before WWI and I was in a desperate search to find their descendants and give her the gift of a living relative.
In an unbelievable bit of serendipity, Pamela had actually been hired by a friend of one of those descendants to do a family tree, so the name I posted about rang a bell. She reached out to me via email and we then spent the next two weeks in constant contact, hot on the trail. I always looked forward to speaking with her; she had a unique combination of boundless expertise, enthusiasm and a great sense of humor. Perhaps not surprising to anyone who knew her skills as a researcher, it was ultimately Pamela who found the clue that linked us to the living descendants, enabling an extraordinary, once-in-a-lifetime reunion. My husband's grandmother, who had lost 99.9% of her family in the Holocaust, learned, at 95, that she actually had three first cousins alive and well in the U.S. It was a stunning discovery, one that forever changed my husband's family, and one that simply would not have happened without Pamela.
Since that experience, I came to think of Pamela as a friend and was always in awe of her energy and dedication. Her professional life seemed the perfect marriage of talent and passion; just scrolling through her Facebook feed, you could see the sheer joy she got from doing the globe-trotting work she so clearly loved, illuminating the mysteries of the past and helping people connect to their lost history. She answered countless questions about my subsequent genealogical searches, and seemed to have an infinite pool of patience and wisdom.
There are no words that can make sense of her being taken unexpectedly, and far, far too young. It is an unfathomably cruel twist of fate. But I do take comfort in knowing that hers was a life extraordinarily fully lived, and that she leaves a rich and substantial legacy. Her work left an unmistakable imprint on the world — in our case, she literally changed lives. I will always be grateful that our paths crossed and send my deepest condolences to her family. She will be so missed.
---
Logan Kleinwaks, Founder of Genealogy Indexer:
A great genealogist has gone. Pamela Weisberger, who gave so generously to help others in their research, will never be able to complete her own. Every project she shepherded, every lecture she delivered, every meeting she organized, every countless hour of planning and email and conversation to advance the cause of Jewish genealogy could instead have been spent on her own personal research, on the genealogy thing we all love. But Pamela took less for herself so that she could give more to others, and that is how I will remember her.
Many of us saw Pamela over the years at genealogy conferences and will never forget her energy. She was at once both a leader and a greeter, inviting genealogists of all skill levels on an exciting journey.Some outside the genealogy world might think it dull to look through old papers in distant archives, but they never met Pamela. They never had the pleasure of seeing her vision bring historical treasures into our lives.
Pamela always had plans for new research projects, plans we must try as a community to take up in her name. It should be easy, since she has shown the way. But how will we equal her energy? How many people will be needed to do what she would have done? I do not know if there are enough, but I hope this tragedy can inspire us to be more active in the way Pamela was.
The shock of Pamela's loss hits us especially hard because so many had recently seen her at genealogy events or corresponded with her about new or ongoing projects. It is hard to imagine that train ever stopping, and we know it did not run out of steam.
I am going to remember Pamela's role in my personal research privately, but where her fingerprints are on projects I am involved in, I hope that continued acknowledgment of her support will in a small way do justice to her tremendous impact on the field. Pamela touched a very large part of Jewish genealogy, always lifting it up.
---
David Fox, Founder of the Belarus SIG (Special Interest Group) at JewishGen:
I was devastated to learn of Pamela's sudden passing. She was an inspiration for many of us in the Jewish genealogy community. She will leave a huge void for genealogy research. I have know Pamela for many many years and remember her hosting and impromptu meeting in her home when I was passing through LA and offered to give an update about Belarus research. My deepest sympathy to her loving family and may we all remember her beautiful smile and her dedication to all researchers. Rest in peace Pamela.
---
Arthur Kurzweil, author of From Generation to Generation and co-founder of the very first Jewish Genealogical Society:
When I was just a little boy I learned that at this time of the year the Almighty inscribes all of our names in the Book of Life, Sefer HaChaim. And I imagined that one day I would like to be the librarian for the Holy One, by maintaining the Books and organizing the files. Yesterday, my friend Pamela Weisberger was relieved of her earthly duties, and the only comfort I can manage to grasp at is imaging that the Almighty wanted her to be the Archivist in the World to Come. I am just one of the countless people around the world who were in awe of Pamela, and for so many reasons. I am just one of the countless people around the world who are literally stunned by her death. Pamela's impact on the world of Jewish genealogy was incomparable. But so was her endless generosity, her inspirational spirit, her warmth and her loyalty as my friend.
If you knew Pamela you know that her accomplishments were breathtaking. If you didn't know Pamela, you might want to learn of her accomplishments. Jewish genealogical research was never the same once Pamela got involved. And it will never be the same without her. Today our family trees have once again become wet from our tears. Baruch Dayan Emes.
---
Joyce Eastman:
I remember Pamela always offering helpful suggestions in the Gesher Galicia digest for furthering the research to any who posted a question there, to include my own queries. Her passing is a shock. She will be sorely missed.
---
Robby Berman, Founder and Director of the Halachic Organ Donor Society:
It is hard to write this without crying.
I have known Pamela and worked with her for about ten years. After ten years of research she finally helped me discover that I'm not a Cohen which allows me to marry the woman of my dreams. Her friendship and kindness and incredible detective skills left an indelible mark on me. I hope to dedicate my documentary about my research to Pam.
---
Max Heffler:
She was an amazing lady. Over the past 10 years I have enjoyed working with/for her on Gesher Galicia and seeing her at conferences. She had such a passion for Gesher Galicia that it will never be the same. How could it be? The Cadatral Map project and the Land Owner Records, and all of the unique energy she supplied. I got to take the Western Wall tunnel tour with her in July. I will miss her dearly.
---
Marla Raucher Osborn and Jay Osborn, Manager Archive-Genealogical Research Department, FODŻ – Foundation for the Preservation of Jewish Heritage in Poland and Gesher Galicia Map Room Coordinator:
Like so many, the distressing news of Pamela's passing came as a shock. She was colleague, friend, co-collaborator, and inspiration.
Although I only served on the Gesher Galicia board from 2012 – 2014, I knew Pamela from before my time with GG and our paths regularly crossed since at IAJGS and RootsTech conferences (IAJGS Philadelphia, Paris, Los Angeles, Salt Lake City, Boston, Jerusalem), seminars (Warsaw, Krakow, Prague), and museum events and openings (Krakow, Warsaw, Los Angeles). We also traveled together in western Ukraine with Alex Denysenko to Lviv, Brody, Grzymalow, and Ternopil.
Along the way Jay joined as map room coordinator for Gesher Galicia, at Pamela's invitation, a role he continues today. The collection and use of these fine historic maps by GG represent in my opinion one of the most unique and important genealogical projects underway today by any organization, anywhere; Pamela started this project 8 years ago. Pamela dreamed large.
Every time we use these maps, every time we, as seasoned genealogists, step up to help someone new to genealogy and only getting started, we honor her memory.
May her memory be a blessing.
---
The Australian Jewish Genealogical Society (Victoria):
The Australian Jewish Genealogical Society (Victoria) joins the Jewish genealogical world in expressing our shock and sadness on the passing of Pamela. We pass on our sincere condolences to her family, Gesher Galicia, and the JGSLA.
We remember with fondness her visit to Melbourne, Australia in March 2014 and the impact that her visit had on the AJGS (Vic) membership. She will be greatly missed by all of us who are aware of her contribution to genealogy.
---
Joyce Field:
It is with great sadness that I learned of Pamela's death. I knew her when she was just starting her genealogical searches and her indefatigable will to learn everything was in evidence then. My condolences to her family.
---
Marcia D. Feinberg:
I am a member of GersherGalicia.org and my interactions with Pam Weisberger was via emails over the last 2-3 years…re various genealogy questions of Ternopil regions and ancestors and the cadastral landowner's records…in western Ukraine….
our latest correspondence was about the fact that our respective ancestors worked on the Count Czarnecki estate in Kaczanowka in the mid to late 1800's thereabouts…if I ever find more information to that effect, I will contact GesherGalicia.org, as Pam was interested in learning more about that…I will do this for Pam…
I am so sad and shocked to know Pam has left us…she was and continues to be a Force of Nature…
---
Milton Koch, M.D.:
As a Galicia "interested party" I have had the benefit of many things that Pam Weisberger did for our genealogy community.
I was fortunate to speak with her, albeit only a few times, in order to set up donations for a few of my Galician family towns. Even though she had been recently working on her daughter's upcoming wedding, she did spend at least one hour with me, guiding me in setting up means to generate donations to enlarge projects for ALL Galician researchers. Her energy, breadth of knowledge, and willingness to help others will sorely be missed.
---
Piotr Gumola, Gesher Galicia Representative in Poland:
It was with extreme shock, followed by profound sorrow, that I received the news about Pamela's death. In fact, I was looking forward to Pamela's next visit to Poland, for which she would plan so many meetings and would want to attend so many events. I was always afraid that I would simply not manage to schedule properly everything she wanted to do in Poland. But somehow it always worked. Twenty minutes after landing in Warsaw after a day-long flight she appeared at the Central Archive of Historical Records (AGAD) ready, full of energy, and eager to share her great knowledge about Jewish archival resources and offer collaboration for preserving the Jewish heritage. I will never forget our joint visit to Kraków where, at the State Archive branch located in the Wawel Castle, she impressed everyone with her knowledge of the history of Polish magnate families and the Jewish history of Galicia. She was the driving force of the very successful cooperation with our friends at AGAD. Thanks to her, so many Jewish names found their way into indexes compiled here in Poland, which will serve Jewish communities across the world forever. It is extremely sad to think that I will never receive any email from her written on her iPad on a plane somewhere over the Pacific or elsewhere. It is a pity that she will never ask me to arrange a visit to AGAD in Warsaw or another State Archive in Poland any more. Her great passion and commitment to the preservation of the Jewish traces in Poland will never be forgotten here.
---
Judy Simon:
I'd like to contribute a few examples of my wonderful interactions with Pam.
I'm not even a Galitzianer, yet I had much contact with her and she was always so helpful. She was the one who convinced me to do the "Playing Jewish Geography with DNA" presentation, and even gave me the idea to do it as the Jewish Geography game to liven it up and make it more interesting to more traditionally non-DNA oriented genealogists. She was spot on, it worked. Because of Pam, my otherwise drab presentation became a very successful one which launched many people on the path of genetic genealogy; I gave that presentation at least three times and each time it was a winner, thanks to Pam's suggestions.
She also gave me excellent ideas for our congregation's Jewish Film Festival here in Monterey, and put me in touch with a local writer/director. And I'm not even in Gesher Galicia, no ancestors from there at all. Pam is one of those people who touched everyone, and did so in an inspiring, energizing way.
Sorry for the huge loss to the Jewish genealogy community, and to her family.
---
Richard Cooper, Jewish Genealogical Society of Great Britain:
I was shocked and saddened to hear that our friend and teacher Pamela Weisberger has just died in Santa Monica after a brief illness.
We had the privilege of welcoming her as a keynote speaker at the Jewish Genealogical Society of Great Britain conference last year. Her talk on Galicia was the highlight of the conference.
Pamela was a charming, erudite and beautiful young lady. As President of Gesher Galicia she has always been both a pillar of support and a leading light, driving so many of its splendid projects.
That Gesher Galicia is such a highly successful and respected group is as much due to Pamela's drive and direction as to anyone. She is irreplaceable.
I wish her husband Ken Kaufman and all her family long life.
May her dear soul be bound up in the bonds of life eternal.
---
McKelden Smith, President of the New York Genealogical and Biographical Society:
I met Pamela Weisberger in 2013. She came to the offices of the New York Genealogical and Biographical Society in New York, and we sat down to talk. After no more than thirty seconds, I realized I was talking to one of the most exciting and interesting people I had ever met in genealogy.
We would get together for occasional breakfasts and lunches when she was in New York. I always looked forward to her visits. She talked a blue streak, but everything she had to say was invariably interesting and her enthusiasm was extremely energizing.
In February, 2015, the New York Genealogical and Biographical Society sponsored her luncheon talk at the Federation of Genealogical Societies conference, which took place in Salt Lake City concurrent with RootsTech. Her talk was entitled "Holly Golightly Was a Nice Jewish Girl: Our Ancestors Reinvented." Her research covered the real-life people associated with Holly Golightly, a fictional character in Truman Capote's Breakfast at Tiffany's. It was an extraordinary compendium of unusually creative research, historical video, bold oral history, and traditional genealogy. It was a work in progress, and she outlined her continuing research plan, which made the talk even more interesting.
Not long ago, we talked on the phone and she told me that she had discovered more details of the Holly Golightly story, and I invited her to come to New York and give a revised talk at an NYG&B event. She accepted that invitation. Just about the time we were ready to send out invitations to the event, she emailed me to cancel, for health reasons. I was concerned but had no idea they were so dire.
I have not made a list of the five most interesting people I have met in the time I have worked in the genealogical world, but if I were to do that, Pamela Weisberger would be on it. Yes, she was a huge personality, and she was also an excellent and supremely resourceful and innovative researcher. What really set her apart was her enthusiasm, energy, and generosity, and her passionate belief in family history as a force for good in the world. All who knew Pamela Weisberger will continue to be inspired by their memories of her for a long time to come.
---
Nina Hoffer:
I feel so blessed to have known Pamela and to have this very fitting keepsake photo of the two of us taken on June 6 at the Global Family Reunion in New York.
We recently found out that we are DNA cousins (4th cousins) through FTDNA. I was so excited to be related to Pamela! Of course of all people in the Geni world, she would be the one to figure out how we were related, no matter how distant.
She gave her fascinating Holly Golightly talk at The GFR. She and Jordan Auslander also put on the the wildly popular genealogy Jeopardy game show which was the usual crowd pleaser. We said we would try to figure out how we are related after the summer. We never got the chance to make this discovery. I was utterly devastated to hear the news of her untimely passing.
I first met Pamela at a Genealogy conference in NYC about 5 years ago. My first impression of her was; Who was this very youthful, vibrant speaker talking about the Old Country with such enthusiasm? I had questions after the lecture regarding my grandfather's Galician town and she whipped out her computer and gave me answers in minutes. She made the research seem more accessible to all. If she could do it, we could do it.
Whether I was attending her lectures or working at the conferences making sure she had her A/V set up, she was always a delight, a ray of shining light. She had this way of drawing people in and making them feel special and important. She had so much patience answering everyone's genealogical questions even when people were asking at awkward times like right before her lecture.
She started off as my Galician Guru, she became a conference colleague and my DNA cousin and along the way she became my friend. I will miss her tremendously.
---
Miriam Margolyes, genealogist and BAFTA Award winning actress:
It is hard to believe that our Community has lost two giants in a few days.
I've just heard of the death of Pam Weisberger, just days after we lost Rieke Nash. Pam was a tireless worker for all of us, constantly pushing the boundaries of our knowledge of Eastern Europe, travelling & making contacts throughout the world, in order to help us know more of our past.
I had the good fortune to know her personally & experience her generosity & kindness. It is a tragedy for us all that her boundless energy has been cut short so cruelly, but her memory will be undimmed & I am sure our Community will find a way to enshrine & celebrate her dear soul. May I wish Ken & the children long & fruitful lives & hope their wonderful memories of Pam will help to sustain them in their profound grief, which we all share.
---
Ari Dale, M.D.
This is saddening and shocking news.
I remember, back in 2012, writing a very naive letter to Pamela about my difficulties with mapping; I received a long, individualized, detailed response from her. Since Pamela did not know me personally, only a very dedicated (and generous) researcher would expend such time and energy in responding to what was, essentially, a nudnick-level request.
To her family – be comforted with all the mourners of Zion and Jerusalem. To the rest of us, let us all be inspired to follow her generous and professional example in furthering the wonderfully enriching field of Genealogy that she so loved.
I am sorry we've lost you, Pamela.
---
Sławomir Postek, Senior Curator at AGAD, Division II (19th Century Files and Zabużańskie Vital Records):
It is a very sad message that I have received. I am in shock, especially as I had several occasions to meet Pamela and remember her as a young, very friendly woman, full of energy. Our cooperation with her was very good. I send you condolences from me and all my group at AGAD.
---
Maciej Orzechowski, Gesher Galicia Research Coordinator in former Galician territory in Poland:
The news about Pamela was a great shock for me and was really difficult to believe. I had received an email from Pamela as recently as September 21. We always had a good cooperation. I send my condolences to her family members. She will be always in my memories.
May she rest in peace.
---
Amanda Kayser:
I never met Pamela but through Gesher Galicia I was a fortunate recipient of her research and the drive she had to push and push for records to be translated and go online so that I, and so many others, could further their family trees and piece together events in the lives of their ancestors.
Many people find emotional fulfillment in tracing the past and many people enjoy the intellectual pursuit of genealogy. For me, Pamela was instrumental in giving me both gifts. She leaves an invaluable legacy.
I wish her family Long Life.
---
Debbie Jurblum, Vice President at Australian Jewish Genealogy Society (Vic):
I am crying inside at the loss of my friend who made it her mission in life to improve Jewish Genealogy and make each person she encountered feel special. We met at Bad Arolsen in 2008 where 40 Jewish Genealogists got together for the first time at the International Tracing Service to do research on our families. She was a friend to all who met her. Her work was an extension of this amazing woman's verve!
We caught up several times at Conferences and also when I was just visiting the US. The last time I saw her I had a connecting flight from Salt Lake City via LA to Melbourne after the Salt Lake City conference and instead of sitting at the airport for six hours she insisted I come to her home so she and Ken could take me out to dinner! I am quite devastated at her loss and yes maybe selfishly so. I just can't imagine a world without her!
I am only one of so many people who were lucky enough to have her in our lives!
---
Alex and Natalie Dunai, Gesher Galicia Research Coordinators in Ukraine:
To say we are shocked is to say very little. What a tragedy. We cannot believe it. Pamela was so energetic, strong and full of life. We were sure she would live for 120 years. She was always keen to learn something new and generous in giving helpful and friendly advice.
It will take us time to digest this terrible news and come to terms with it.
---
David Charles Belgray:
To all fellow members, and to those who have written such memorable eulogies of Pamela Weisberger, especially Brooke Schreier Ganz whose coverage of her contributions was so expansive and poignant. I used to go to the meetings more often, and when I wanted help I would always be referred to Pamela who was always present and willing.
Now I attend seldomly because of some physical issues – aging – and correspond with her. I forgot she was a human being who won't always be there. The reality hits hard. My heart goes out to her family and to you all who are missing her already, as I am.
---
Janet Isenberg:
I first met Pam 11 years ago when we both went to Bad Arolsen with Gary Mokotoff and a group of genealogists from around the world. We were the first group to get a look at the newly public Red Cross holocaust archives – a moving and memorable experience. Since then, we'd meet for lunch or dinner when Pam visited New York and always had a great time discussing our shared passion, as well as almost any topic that came up. Her untimely death has come as a great shock and her loss will be deeply felt.
---
Miriam Weiner, President of the Routes to Roots Foundation and author of Jewish Roots in Ukraine and Moldova:
I was shocked and saddened beyond words when I received the phone call about Pam's sudden passing. We first met more than ten years ago when we collaborated on a lecture presentation. This year, we were working together again and were eagerly planning another exciting collaboration, which we discussed at length in a meeting in May here in my home and again by phone only few weeks ago.
I have profound admiration and respect for Pam for her many innovative accomplishments in genealogy and particularly her discovery of archival collections, maps and other items throughout archives in Poland, Ukraine, Israel and elsewhere and then making them known and available via the Gesher Galicia website. Her infectious enthusiasm resulted in drawing so many others into her research projects including archivists throughout the former Galicia area. Her loss is immeasurable, both personally and professionally.
Pam had a heart that was big enough for everyone she met and her circle of friends knew no bounds. I am honored to have been included in that circle and shall miss her terribly. My deepest sympathy goes out to her family and loved ones; along with the multitude of friends she had worldwide.
---
Alec Ferretti:
I never had the pleasure of meeting Pam, and I only spoke to her via email once or twice, but I can credit her with informing me of a once in a lifetime opportunity. Last March, she published a message on the JewishGen message group, announcing an initiative run by the Taube Center for the Renewal of Jewish Life in Poland and sponsored by the Polish Foreign Ministry. This program sought to take a group of 15 people on an all expenses paid 12 day study tour of Poland, to explore Warsaw, Krakow, Lublin, and the Beskid Mountains. I was accepted, and this past June, I had the joy of seeing my ancestors' homeland in a way that I never would have dreamed. I had thanked Pam for bringing this to my attention and had promised to write an article for The Galitzianer about my experience, but hadn't yet done so. She touched the lives of many people, some of whom, like me, she didn't even know, and her passing is an unfathomable loss for the genealogical community.
---
Rabbi Shalom Bronstein:
Like everyone else involved in family research, I was stunned by the news of Pamela's passing. I would always exchange a few words with her on her frequent trips to Israel. She opened up Galicia research for thousands upon thousands of people, making Gesher Galicia a user friendly and shining star in our research. She was always full of new ideas and her enthusiasm was legendary. It is hard speaking of Pamela in past tense. Always helpful and always ready to assist in any way possible – she introduced one of my talks at the 2009 Conference in Philadelphia – even though she was pulled in many directions at once – she willingly took the time. Her legacy is ever lasting and I am grateful for having known her over the years.
May God who comforts all who mourn grant consolation to Pamela's family among the other mourners of Zion & Jerusalem.
---
Robyn Dryen, President of the Australian Jewish Genealogical Society:
The Australian Jewish Genealogical Society joins colleagues world-wide in mourning the loss of genealogist extraordinaire, Pamela Weisberger.
Pamela visited Australia in March 2014, and in her indefatigable way, shared her knowledge, expertise and humour over a week-long road trip which would have brought mere mortals to a standstill. In little over a week she delivered workshops and talks in Sydney, Canberra, Melbourne and Perth. Everyone who benefited from her amazing breadth and depth of knowledge raved about the experience.
Even in the short time since that visit, Gesher Galicia has added exciting new features and wonderful new resources – due in no small part to Pamela's enthusiasm and drive.
She will be sorely missed by us all.
Our sincerest condolences and best wishes to her husband Ken, and children Michael, Nick, and Lily. May her memory be for a blessing.
---
Rand H. Fishbein, Ph.D., Vice-Chair, JewishGen Board of Governors:
The unexpected news of the passing of Pamela Weisberger has hit the world of Jewish genealogy with the force of a California earthquake. And while Pamela may have lived in Los Angeles, this particular earthquake has spanned the globe. For wherever you are, if you swim in the waters of Jewish family history, then you surely have been touched by the energy, the innovation and the brilliance of Pamela Weisberger. To so many, she was a force of nature,a driven personality, whose vision has helped to lift the field of Jewish genealogy to a new plateau.
You did not have to be a close friend of Pamela Weisberger to know of the legend. The imprint of her good works were, and are, everywhere to be found. She always was on the move. Getting her attention at a genealogy conference often was like asking a hummingbird to hold still for a photograph in the middle of a field of flowers. She was on everyone's contact list. Life for Pamela was never dull. There always was another project to start, an ancestral town to visit, a presentation to deliver or a new search tool to add to Gesher Galicia's award-winning web site.
Viewed through her eyes, the world was an endless range of research challenges, and she was determined to conquer each one of them. Whether the task was turning the Gesher Galicia Special Interest Group into a pacesetter among the SIGs, building L.A.'s Jewish Genealogical Society into one of the premier societies in the world, or initiating the extraordinary Cadastral Map Project, Pamela always was on the cutting edge.
If Pamela were able to read the accolades written about her in the days since her untimely passing, she would have blushed with pride. For while she was both an indomitable spirit and never one to rest on her laurels, she also appreciated that her work had meaning beyond our time. She drew strength, I believe, from the fact that so many people benefited from her research. Being a leader is rarely easy, but Pamela made the task of organizing Jews (and Jewish genealogists can be a finicky lot) seem effortless. She knew how to marshal talent, fund projects, and conceive of new initiatives that would not only have scholarly value, but would seize the public's imagination. Pamela did this over and over again. It was, in every sense, a reflection of not only her love for the craft, but most of all her love of the Jewish People.
The Jewish genealogical community is made up of many dedicated individuals, driven and inspired to reclaim a piece of a distant past. The work of document discovery, recovery and indexing is a righteous endeavor, and those who undertake this often selfless task do so out of a sense of personal devotion. This is Pamela's legacy. Much like a painting heavily damaged by war and neglect, Pamela painstakingly brought history back to life, returning color, texture and meaning to the lives of the long departed.
In the world of Jewish family history Pamela was a rock star. Blessed with an unusual talent for sleuthing, she also had a natural ability to communicate her findings to an amateur audience with uncommon enthusiasm and warmth. We will miss Pamela. Her inspiration touched us all. Her good works, like her unquenchable spirit, will continue to burn brightly in the hearts and minds of those who knew and admired her. May she find eternal peace among the ancestors she rescued from obscurity. I have no doubt that beyond the mountaintops she surveyed, they have welcomed her with open arm sand with the same love she bestowed on their memories.
---
Bridget Bray, Founder of The Genealogy Event and GENGEN (GENetics over GENerations):
Four years ago when I first launched The Genealogy Event (in NYC) Pamela was one of the first supporters who welcomed me into the genealogy community and offered her assistance. Even before I spoke to her, or met her in person, her emails where full of the very energy, vitality and passion that defined who she was, what she did and how she touched so many people — myself included.
How lucky were we all that had an opportunity to know her, to meet her, to learn from her.
While her moment here in life was far too short, I will be forever grateful for the moments I had with her.
RIP Pamela – you will be sorely missed.
---
Gilad Japhet, Founder and CEO, MyHeritage:
I was shocked to hear that Pamela passed away suddenly.
We last met just a few months ago at the Global Family Reunion in NY, where I listened to Pamela's fascinating research of the characters behind Breakfast at Tiffany's. I vividly remember meeting Pamela in Israel two years ago and having dinner with her at RootsTech last year. I admired her work and Gesher Galicia has become a role model for me for a highly innovative and well executed genealogy organization. Pamela exchanged notes with me and I always appreciated her wit and humor, and saw her not just as a colleague sharing the same causes, but also as a friend. Pamela is one of the rare people who has no replacement. This is a huge loss to Jewish genealogy. My heartfelt condolences to her family and the people of Gesher Galicia. I hope her legacy will inspire others to follow in her footsteps.
---
Jill Chozen:
Still processing the sad and tragic news of Pamela's untimely death last Friday.
She was a shining light, a vibrant and vital part of Jewish genealogy all over the world. She reached out and touched each one of us with her warmth, her immense knowledge, her creativity, her boundless energy, and her skills, as she constantly encouraged us to connect all the dots, and to help us discover new ones.
R.I.P., dear Pamela. The world will miss you.
---
Bernard Flam, member of Cercle de Généalogie Juive:
On behalf of French "Galitzianer genealogy detectives," I wish to send our condolences to Pamela's family on this sad day of celebration.
I don't know the wife or the mother she was, I am sure she was as great as she was for us!
We had been lucky to welcome her last October in Paris for a conference on "non-conventional" archives to look for when we are stopped by a brick wall: Galician & Polish Research: Unique & Unusual Resources. We were a small group of motivated and skilled searchers (from Cercle de Généalogie Juive) but she was 1st, far ahead of us.
With her cadastral maps, her landowner registers and all her other "tricks in her bag," she opened paths we will follow for years.
On this forum, posts after posts, she took also time to coach or help many of us. We are grateful to Pamela for all our recovered "Losts."
Concerning Gesher Galicia web site, one of her great achievement, almost each page will keep memory of Pamela as a legacy to future searchers.
I confirm she will be missed by all of us in the Jewish genealogical community worldwide.
---
Caryn Weisinger Wariner:
The death of Pamela has been weighing heavily on my mind all week. What a shock to learn of her sudden passing after just working with her this summer by email. She was so helpful with everything I asked of her even though she was busy getting ready for the conference this year. She said in the fall she wanted me to get back in touch with her so she could help me with some problems I was having in my searches. Her knowledge and compassion for everyone looking to find lost family will never be replaced. My sympathy and prayers go out to family and friends.
---
Annette and Jacob Rosen:
Pamela came for dinner to our home in Jerusalem a few days before the start of the IAJGS conference last July. We had a wonderful, stimulating time and discussed many professional and family matters.
We noticed that Pamela had an iPhone cover with the image of one of Galicia's cadastral maps printed on it. She told us that it was made specially for her and she entertained the idea of making more of them.
Wouldn't it be a good idea to follow it through? I am sure everyone who knew her would love to purchase it.
---
Jordan Auslander:
Pam told me we first met at the IAJGS Toronto 2002 conference where she was following around the established group of Hungarian researchers. In a few short years, a lot of us were trying to keep up with Pam.
Pam's work with H-SIG, ITS, and Gesher Galicia was groundbreaking. But it was the summer conferences where Pam really shined, she brought the fun. Pam approached the conferences as a movie producer and got more and better out of all the talents she assembled. She'd taken the the film program Lucille Gudis had created as a sideshow for the 2006 New York conference and made it an attraction, took Ron Aron's Jewpardy from its Chicago premiere in 2008 into a feature of the subsequent Philadelphia, Los Angeles, and Boston conferences. She took the act world wide in June 2015 at the Global Family Reunion.
Pam wore many hats and left big shoes to fill. Others will step up, but I don't think any one person could do as much. I didn't think I could do as much without knowing Pam. I will miss my colleague and dear friend at the conferences and every moment in between.
---
Jolanta Gumula, Deputy Director
Exhibition and Collection Departments, POLIN Museum, Warsaw
The entire team of the POLIN Museum of the History of the Polish Jews wishes to extend its sincerest condolences on the passing of Pamela Weisberger, President of Gesher Galicia.
We have known Pamela for many years. She was a source of constant inspiration and invaluable support in our efforts to create the Resource Center. On her initiative, the POLIN Museum signed a partnership agreement with Gesher Galicia. The Resource Center then received a donation of a copy of a collection of cadastral maps, which Pamela, together with colleagues and friends, had acquired from numerous institutions. We had been making plans for various new projects, which sadly we cannot now pursue with her. We do hope, though, that Gesher Galicia – Pamela's life work – will continue, so that together we can preserve the memory of Galician Jewry.
Pamela was a dear friend, who will be sorely missed.
---
Mag. Kirstin Muff, Project Management, PR and Event Management
ICARUS – International Centre for Archival Research
Erdberger Lände 6/7, A-1030 Vienna, Austria
We are truly shaken by this terribly sad news. We got to know Pamela as such a dedicated and inspiring person, who really sparked motivation. We enjoyed and appreciated her commitment and her presence at our last conference in Prague, where she was a vital part of bridging interests and widening horizons.
Our thoughts are with Pamela and her loved ones. Please let us know if we can provide any further support.
---
Alex Feller, MD, founder of the Rohatyn Shtetl Research Group, corresponding secretary for Gesher Galicia
MEMORIES OF PAMELA WEISBERGER Z'L
On Sunday, September 28, the world was able to witness a rare event, the lunar eclipse of a super moon. As I stood outside our house with my family watching the brightness of the moon fade to orange, I reflected once again on another rare event whose brightness suddenly faded from Earth two days earlier, the life of Pamela Weisberger. Although I had only been witness to a fraction of her life, that small part has been very meaningful for me.
My first thoughts take me back to the IAJGS conference in Washington, DC in 2011. This was my third conference, but this time I had brought my mother along to meet and partake in the community in which I had recently become engrossed. As we stood in the lobby upon arrival, my mother asked, "So who is this Pamela?". I thought to myself, Pamela is the person who finds strengths in people, encourages them to nurture them, and makes them feel special. However, I am not special. Pamela treats all who meet her in that same way, and we all come out feeling special. I had explained to my mother that Pamela had asked and encouraged me to present at this year's Gesher Galicia SIG meeting about my recent trip to Rohatyn, Ukraine with Marla and Jay Osborn and specifically about the Jewish tombstones we had recovered from broken-down streets and sidewalks. I was deeply honored to be presenting and shocked Pamela believed I had something to contribute as I still felt quite a novice in this field. She had done the same the year before when she asked me to quickly present our Google Earth project, which we used to overlay old maps of Rohatyn over current topography. I was impressed by Pamela's willingness to give up some of her talking time during the meeting, which I am sure she had no trouble filling herself, to an unknown hobbyist like myself. I gather it is because she was always thinking about the future. Thinking about new ways to use technology in genealogy, new ways to present her genealogical research and data, and new ways to involve new members. In that regard, she was a visionary.
Standing in that lobby, my mother, being a typical Jewish mother, was kvelling and full of naches that her son would be on stage, so she wanted to extend her appreciation to Pamela. All of sudden and out of nowhere, Pamela appeared. As she walked toward us, I thought, Here is someone I admire and respect for all the work that she does. Here is someone I look forward to exchanging ideas and stories as I mature from a 'young,' part-time researcher to a retired, full-time genealogist. I stopped her to introduce my mom, who explained that she herself had been born in Rohatyn and that her ancestors were Galitzianers going back many generations. Although Pamela was gracious to meet my mother and hear her connection to Galicia, I could tell she had a lot on her mind and much to do to get ready for the conference. In a burst of energy, Pamela excused herself and quickly walked away with hands in the air declaring something like, "…and make sure you put your presentation on a flash drive! They will not let us use our own laptops for the meetings!"
In this community there is an interesting social dynamic to which I find myself drawn. I only see other members maybe once or twice a year, but we've all formed very close bonds with each other. My friendship with Pamela was no different. Even though I could count the number of times I had spent with her in person on two hands, every one of those times was meaningful. Pondering our Jewish ancestry on top of Masada, being offered membership to Gesher Galicia's board of directors over dinner in a restaurant in Santa Monica, meeting her friends and relatives while tasting various Eastern European dishes at the Russian Tea Time in Chicago, discussing recent finds in the Ivano-Frankvisk archives over lunch at the Walnut Room in the old Marshall Fields building during Christmas time, ordering sushi and drinking sake and having an overall great time at the Naked Fish in Salt Lake City with wonderful friends. Admittedly, it seems most of these encounters involve food. I can't remember what I ate yesterday, but I can remember these times with Pamela well.
Of all these good times, the first interaction I remember with Pamela was in connection with her Cadastral Map and Landowner Records Project. I had donated for the acquisition of our town map at my first IAJGS conference in 2008 at the insistence of Phyllis Kramer. Over time, I grew increasingly excited about the idea having such a map and increasingly impatient that I had to wait for it. I started bugging Pamela on the status of its estimated delivery, which took a couple years. Upon its arrival, Jay Osborn performed the difficult and painstaking task of stitching the digital images of the map together piecemeal. During a later sushi dinner in SLC, Pamela appointed Jay to be the coordinator of the future, award-winning Map Room. Pamela's ability to take what are just ideas and fantasies to us and make them real is astonishing.
Her comfort and finesse at presenting were remarkable. I always made the effort to attend her lectures. Sometimes you might have found me in the front row taking pictures of her that unfortunately did not always come out too well given the poor lighting in the room. She had a great skill in combining her extraordinary research and interesting documents with a captivating story and episodic humor that left the audience with increased knowledge and a time well spent. It is a rare lecturer who has this ability to attract a full house of listeners and keep them engaged. This is why she correctly predicted that outside of her own and Tammy Hepps' lectures, I would yet again spend most of my time during the coming February's RootsTech conference in the basement of the Family History Library stooping over a microfilm reader, the same way she had stumbled upon me three months ago when she walked past the microfilm room at closing time at the Central Archives for the History of the Jewish People in Jerusalem.
In my last communication with Pamela, we discussed coordinating hotel accommodations for the conference in February, and she urged me to call up the hotel event planner to open more rooms so I could get the discount as she had done. She was a go-getter for sure. We made plans to grab breakfast in the hotel restaurant together, just as we had always done at previous RootsTech conferences. I miss Pamela as a friend, a mentor, and a colleague. And I will miss sharing breakfast with her in February.
---
Blog posts and obituaries from around the Internet:
---