General Notice
Gesher Galicia is a non-profit organization. All funds received from the sale of Gesher Galicia merchandise is used to support our programs and research. All prices are in $USD. Use your credit card or PayPal account on our online shopping cart or mail a check (see below). Ordering questions may be directed to geshergalicia@comcast.net.
Shipping Rates:  Once you get to your shopping cart and add your zip code or country the shipping charges will auto-calculate based on US/Canada/International. Rates start at $3 for a single tee shirt in the US and go up from there. Please see the full shipping fee breakdown at the bottom of this page for exact pricing details.
---
Gesher Galicia Logo Merchandise
Unisex Tee Shirt – Ultra-soft cotton, black, with GG Design. Adult Sizes – Small, Medium, Large, Extra Large, XX Large, XXX Large. Child Sizes Extra Small, Small, Medium (limited quantities). Choose size from the dropdown menu. Price: All sizes $20.00 each.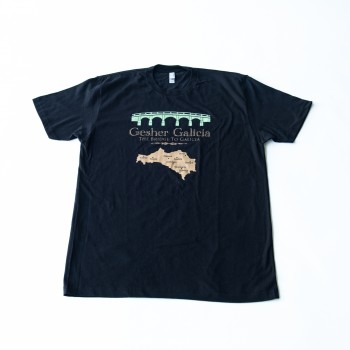 ---
Ladies' Slim-cut Tee Shirt – Ultra-soft cotton, black, cap sleeve, with GG Design. Ladies Sizes – Small, Medium, Large, Extra Large, XX Large. Girls Sizes – Extra Small, Small, Large. Choose size from the dropdown menu. Price: All sizes $20.00 each.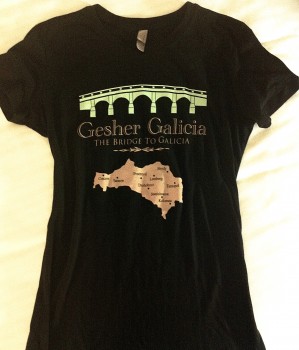 ---
GG Canvas Tote Bag – Natural with green One size – $15.00 each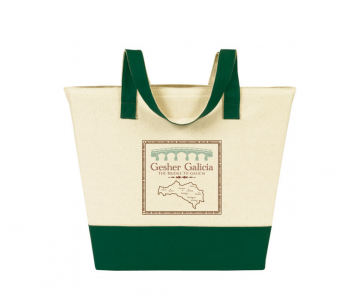 ---
GG Coasters – Bamboo – Set of 4 – $15.00 each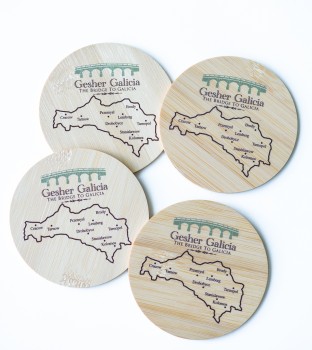 ---
Books
Kraków – A Guide to Jewish Genealogy and History, Third Edition (April 2017) 170 pages. Geoffrey M. Weisgard.
Foreword by Andrew Zalewski, M.D., Gesher Galicia Board Member

Published by Gesher Galicia, in association with British researcher Geoffrey Weisgard, this highly readable guide to Kraków family history research is an essential tool for all those with an interest in Kraków. The book describes in great detail the wide range of information sources about genealogy and the history of the Jewish communities of Kraków and Kazimierz from the 16th and earlier centuries to the present, and including the Holocaust and the important decades before and after.
This third edition contains much new information that was made public since the last printing in 2015. Many of the new sources have come to light as a result of special interest groups, like Gesher Galicia, and continuing academic research in Poland, Israel, America, and elsewhere. The variety of different sources illustrates the diversity of the Jewish community in Kraków, particularly in the late 19th and 20th centuries.
A lengthy article on the history of Jewish Education in Kraków is included as an Appendix, and there is a comprehensive bibliography and a detailed index. The book also explores research opportunities in Kraków and elsewhere, thereby providing useful suggestions on how to add more names to your own Galician family tree.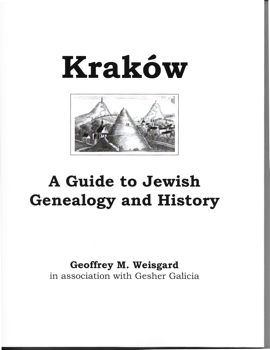 Price per book in US Dollars, including Shipping and Handling, is:
Mailed from the USA:
• USA $25.00 USD
• Canada $37.00 USD
Mailed from the United Kingdom
• United Kingdom $26.00 USD
• Europe $33.00 USD
• Israel $39.00 USD
• Australia $40.00 USD
---
Narrative of a Mission of Inquiry to the Jews from the Church of Scotland in 1839 is an account of the travels of a small group of Protestant missionaries, authorized by their Church to visit Jewish communities throughout North Africa, Palestine, Asia Minor, and Europe.
First printed in England in 1842, consisting of 740 pages, with maps and woodcuts, we have reprinted Chapter VIII, entitled Austrian Poland, better known as Galicia. The authors give a vivid account of the towns, including details of synagogues, trades, problems, education, literacy, tombstone art, and burial customs, for example. Although few individual names are mentioned, one can gain insight into the daily lives of our families who lived in Galicia. Our 82-page paperback book is indexed.
You may access the entire 740-page book through Google and read the chapter online. If you prefer to have your own copy as a bound paper book, you may order it here. Price, including Shipping & Handling, is for USA and Canada $18.00; Other Countries $22.00.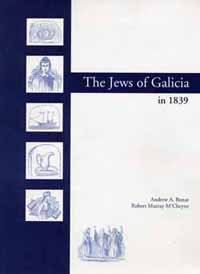 ---
Gesher Galicia 10th Anniversary Video DVD
Produced by Sam Eneman , this is a narrated, visual history of Gesher Galicia. Includes video clips of four member trips to Galicia and photos of members at previous conferences. DVD or Videotape (VHS) format. Price, including Shipping & Handling, for DVD (Everywhere $8.00) or Videotape ($10.00 USA/Canada or $14 Other Countries). Limited quantities available.
---
To order and pay by check or money order:
Check – in US​ dollars and​ on a US ​b​ank – payable to Gesher Galicia, Inc.
Money Order – in US ​dollars​ – payable to Gesher Galicia, Inc.
​Please include a note stating exactly what you are ordering, including​ size and amount. Please include your email address.
​Please​ send the ​check or money order to:
Charlie Katz, Treasurer
Gesher Galicia
40 W72 St #161C
New York, NY 10023, USA
Gesher Galicia Shipping & Handling Rates
Correction: We have revised our shipping rates for the GG logo merchandise as advertised in the September 2013 issue of The Galitzianer. The current rates are listed below. We regret the inconvenience.
All rates are in $USD.
Gesher Galicia Logo Merchandise:
For USA:
• 1 item – $3.00
• 2 items – $6.00
• 3 items – $9.00
For Canada:
• 1 item – $9.00
• 2 items – $9.00
• 3 items – $11.00
For Other Countries:
• 1 item – $13.00
• 2 items – $15.00
• 3 items – $17.00
Books and DVDs:
The above rates do not apply to Books or DVDs as Shipping & Handling is already included in the listed price.