We ask for your generous support to continue the J&F Project. On average, the cost of acquisition, researching, indexing, and posting the results is about $700 per survey/town (remember for most towns, two surveys are in scope). For larger towns, the cost typically exceeds $1,000 per survey/town.
Your donation will help to defray the expenses of an archival search, the acquisition of the images, and the indexing of Josephine and Franciscan cadastral surveys. Once completed, the spreadsheet showing the names of the town's inhabitants and other information (see the example below), and the accompanying records, will be available in the Members Portal on Gesher Galicia's website. The names will be also searchable in the All Galicia Database.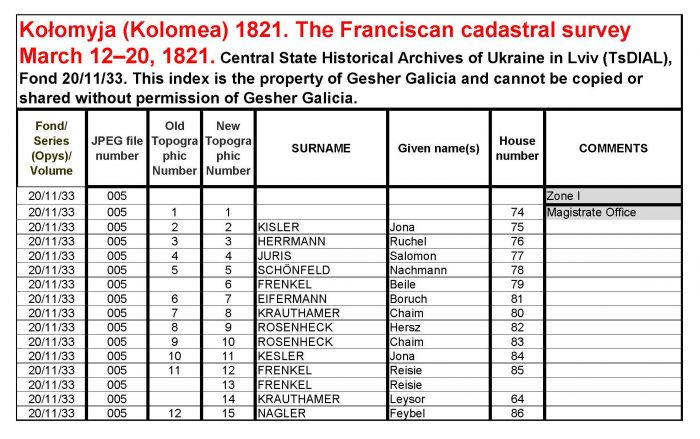 Donations are now being accepted for the 2020 J&F Project town projects which include:
Baranów (Tarnobrzeg district), Bursztyn, Dubiecko, Dunajów, Jazłowiec, Narajów, Nowy Babilon, Nowy Sącz, Nowy Targ, and Tarnobrzeg.
As always, we cannot guarantee in advance whether the original records will be complete or whether they will contain information of interest to a particular donor.
Donations by credit card or PayPal may be made online, directly to https://www.geshergalicia.org/donate/#jfproject.
Donations by check must be in US dollars, made payable to Gesher Galicia, Inc. and mailed to:
Gesher Galicia
c/o Ms. Darcy Stamler
3740 Moore Street
Los Angeles, CA 90066
Questions regarding donations can be addressed to: geshergalicia@comcast.net.
The Josephine and Franciscan Project: click here.