() () ·
Book Review: 'Together and Apart in Brzezany: Poles, Jews, and Ukrainians, 1919–1945', by Shimon Redlich
by Marco Carynnyk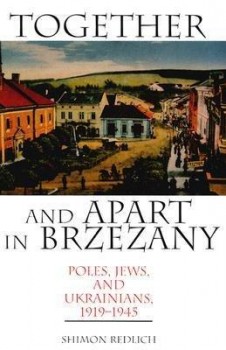 Galicia, the land in the basin of the Dniester River between the foothills of the Carpathians and the great plateau of Podillia.

For Poles it was Malopolska Wschodnia, Eastern Little Poland, or the kresy, the borderlands. It had been part of the Polish realm since 1386. Polish poets wrote odes to the kresy. This land was not—never would be—anything other than Polish.

For Ukrainians it was Halychyna, but not Ostgalizien, Eastern Galicia, not a part of Poland. They had lived here for a thousand years; they had always constituted the majority of the population; their prince had founded the town of Halych for which the land was named. Its destiny was to be united with the "greater Ukraine" across the border.

Jews had lived in Galicia for half a millennium; they had a religion and a language—in fact, two languages—of their own, but their relation to the land was more ambiguous, the choices more difficult. Bundists argued that Jews should develop their community where they were. Assimilationists urged them to become Austrians or Poles. Zionists said that they were a nation, a people, and could fulfill their destiny only in Eretz Israel.

The Second World War swept away these conundrums of identity. The Jews of Galicia were annihilated. Galicia became what the Poles had feared—"Western Ukraine," a part of Soviet Ukraine and thus of the indivisible Soviet Union. Population transfers—Poles to the west, Ukrainians to the east—established an almost total ethnic purity. The few Jews who survived the war followed the Poles to the new Poland and then went on to Israel and the Americas.

[not-level-gesher-galicia-member]

Gesher Galicia members,

log in

to read the rest of this Galitzianer article.

Not a member?

Join today

and get access to almost two decades of back issues!

[/not-level-gesher-galicia-member][level-gesher-galicia-member]

After the war, out of loyalty to its Soviet protector, the Polish regime forbade its citizens to express nostalgia for the kresy. Then Polish communism collapsed. Today every bookstore in Warsaw has shelves labeled "Kresy" and crammed with memoirs, guidebooks, and photo albums.

The nostalgia seeped across Poland's western border. Germans had been settling in Galicia since the fourteenth century. Then came a hundred fifty years of Habsburg rule. Every educated person spoke German. All Galicians were Germanophiles. Today parts of the city still look more German than Slavic. After the war the task for Germans was to deal with the perpetrators among them. By the late 1980s young German scholars concluded that they could turn their attention to the east. The studies of the Holocaust in Galicia that they wrote are more thorough than those in any other language.

The Ukrainians who fled to the West in 1944 never lost interest in their homeland. They published hundreds of memoirs and dozens of regional studies, one on almost every city and town in Galicia. None of these books found much room for the Jews and Poles who had also lived there.

For all their differences with the émigrés, Soviet Ukrainian historians colluded in the silence and busied themselves churning out treatises on the benefits that the "golden September" of 1939 had brought: the number of schools and hospitals that had been established, the tons of beets that collective farms were producing.

Then in 1991 Ukraine became independent. Historians started documenting the war that the NKVD had waged against civilians for ten years after victory over fascism was proclaimed. They even made timid efforts to study the Holocaust.

On this continent, Irving Howe's 1976 book World of Our Fathers made genealogy and the old country fashionable. Stories of how young American Jews set off to learn what had happened to their ancestors' shtetl became a staple of Sunday sup- plements, books, and television documentaries. Freelance researchers let it be known that they would accept a few dollars for finding family records in the archives of Eastern Europe.

But nobody talked about how Ukrainians, Jews, and Poles once lived side by side in every city and town of Galicia. Nobody, that is, until an Israeli scholar wrote a book about the Polish-Jewish-Ukrainian town of his childhood. Shimon Redlich was born in Berezhany, eighty kilometers southeast of Lviv, in 1935. His father and grandparents were killed there during the German occupation. Shimon and his mother survived because they were first assisted by a Pole and then hidden by a Ukrainian woman. They left for Poland in 1945 and five years later emigrated to Israel. Redlich did graduate work in the United States (his dissertation was on Jews under Soviet rule during the war) and now holds the Solly Yellin Chair in Lithuanian and East European Jewry at Ben-Gurion University. He has produced articles on Jewish-Ukrainian relations and books on the Jewish Anti-Fascist Committee in the USSR.

To write Together and Apart in Brzezany Redlich drew on his own memories, interviews that he conducted in Israel, Poland, the United States and Ukraine, and an impressive list of testimonies and depositions, books, articles, archival documents, and records of postwar German trials. The story that he tells is fascinating, and the quotations from the testimonies and interviews that he weaves into it are vivid and revealing.

One Polish interviewee told Redlich that Jews welcomed the Soviets and helped the NKVD. He recalled his uncle being arrested by "two NKVD officers accompanied by three young Jews wearing red armbands." A woman expressed the Polish prejudice against Ukrainians by insisting that only Ukrainians welcomed the Germans: "there was celebrating and shooting in the center of town for twenty-four hours straight… Windows in Polish and Jewish houses were shattered, and people feared for lives. Ukrainians celebrated and caroused the whole night, imagining that they would finally have their… independent Ukraine. From that moment on, they felt superior."

The Jews Redlich talked to had their own biases. One woman advised him not to present Poles too favorably "for the sake of our martyrs." A man who was six years old in 1941 demonized Ukrainians by relating what he must have heard from his elders: "The Ukrainian peasants were led into the town and opened up the prisons where Ukrainians had been incarcerated. They released those people from prison, and then they caught as many Jews as they could and massacred them. Then they caught other Jews and forced them to bury the dead, apparently with their bare hands. It was so typically Ukrainian. The Ukrainians don't just kill, they want to have a good time."

Redlich's Ukrainian witnesses vented their own prejudices. A woman revealed her bad faith when she talked about the Jewish militia: "I was amazed how people could do it to their own… I never saw Ukrainian militiamen arresting Jews." A man declared that Jews were outposts for Soviet intelligence and collaborated with the Soviets in 1939–1941.

Scholars will question some of the factual statements in Together and Apart in Brzezany. In the one paragraph that he devotes to the Soviet deportations Redlich repeats the old estimate that 1,500,000 people were deported. Newer evidence suggests a figure of 320,000. He states that the arrests and deportations "affected mainly Poles and Ukrainians." In fact, 52 percent of the deportees were Poles, 30 percent Jews, and 18 percent Ukrainians and Belarusians.

Redlich's writing is at times perfunctory. He strings together passive constructions and lards them with sociological jargon. He calls integral nationalists "integrationist nationalists." He throws in "utraquistic" without explaining that it refers to bilingual education.

The publisher and the copyeditors must be held responsible for some of the failings. They do not handle Polish, Ukrainian, and Russian references well. They consistently capitalize "Gimnazjum," which is like writing "the High School." They omit most (but not all) Polish diacritics and misspell the occasional Polish word. They give many Ukrainian personal names in Russian forms. They cite Polish and Ukrainian titles in the original, but give Russian and Hebrew titles in English. And although Galicia has not been Polish for more than sixty years, the book uses, without explanation, the Polish forms of place names.

The essential conflict in interwar Galicia was between Ukrainians and Poles. Jews encountered anti-Semitism, of course, and their opportunities for education were restricted, but, as Redlich observes about Berezhany—and this can be applied to all of Galicia—"there was never a pogrom-like atmosphere."

What changed during the war years? What brought about the enmity and slaughter? What shaped the charges that Jews, Poles, and Ukrainians have been exchanging ever since?

Redlich does not come to grips with these questions. He offers his testimonies and interviews for the most part without comment, and he seems not to realize that we construct our memories, that conscious and more often unconscious assumptions shape the simplest account.

Shimon Redlich has assembled evidence on an important issue: how Poles, Jews, and Ukrainians have perceived each other. Now we will be waiting for him to tell us what he makes of that evidence.

Shimon Redlich. Together and Apart: Poles, Jews, and Ukrainians, 1919–1945. Bloomington: Indiana University Press, 2002. xi, 191 pp.
---
Marco Carynnyk is a Toronto writer and editor of Ukrainian background. His most recent publication (with Karel C. Berkhoff) is "The Organization of Ukrainian Nationalists and Its Attitude toward Germans and Jews: Iaroslav Stetsko's 1941 Zhyttiepys." With support from the Canada Council and the Memorial Foundation for Jewish Culture in New York he has been working on a book entitled Furious Angels: Ukrainians, Jews, and Poles in the Summer of 1941.
[/level-gesher-galicia-member]