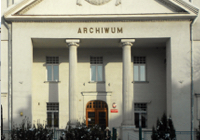 Gesher Galicia's current research projects.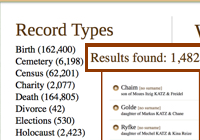 Online database with over half a million records from Galicia.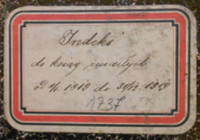 Searchable sources from Poland and Ukraine, and from other countries.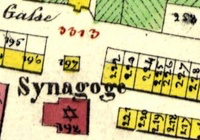 Large-scale, zoomable cadastral and regional maps from Galicia.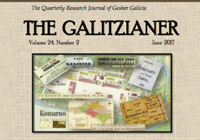 Gesher Galicia's quarterly research journal, published since 1993.
Przemyśl Identification Project

|

Read here about the final results of the project and the identification of 582 record sets of previously unknown origin
Upcoming Programs
July 5, 7, 12, and 14, 2022. A four-part online course through the Gesher Galicia-Gratz College partnership: "THE PATH TO MODERNITY: The Jews of Galicia." To pre-register, please contact Lori Cohen (lcohen@gratz.edu). For the beginners and seasoned genealogists from around the world, the course explores the social and cultural transformation of Galician Jewry drawing on unique material. To find more about the topics please click here.


Recent Programs
Wednesday, April 13, 7:00 PM, via Zoom The Jewish Genealogy Society of Long Island is delighted to invite you to our next meeting, Topic: Interview with Rabbi Moyshe Kolesnik, Keeping the Galitzianer Flame Alive in the Heart of Galicia. Interview by Steven Turner and a narrated tour of the Tempel Synagogue of Ivano-Frankivsk conducted by Rabbi Kolesnik. Recorded: June 2021. Speaker: Dr. Steven S. Turner, President of Gesher Galicia. To join our meeting: Register for our Zoom meeting: this will allow you to join in so you can chat with others during the meeting. Register in advance for this meeting by clicking here.

Wednesday, March 9th, 2022, 1:00 p.m. ET. Dr. Steven S. Turner, President of Gesher Galicia and Dr. Victoria Khiterer, Associate Professor of History at Millersville University will participate in a lunchtime session to discuss the Russian invasion of Ukraine. This session is sponsored by the Holocaust, Genocide and Human Rights Education Center of Mercer County and will take place on Wednesday, March 9th at 1 PM ET. This will be a virtual session over Zoom. We invite all of you to attend. Please RSVP to HGHRCenter@mccc.edu.


---
Gesher Galicia is a partner of the following organizations: