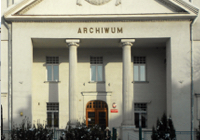 Gesher Galicia's current research projects.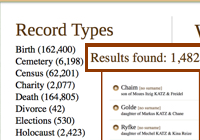 Online database with over half a million records from Galicia.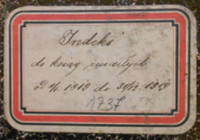 Inventories of genealogical records in Polish and Ukrainian archives.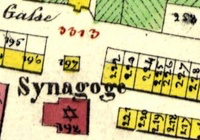 Large-scale, zoomable cadastral and regional maps from Galicia.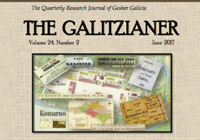 Gesher Galicia's quarterly research journal, published since 1993.
Przemyśl Identification Project

|

Read here about the final results of the project and the identification of 582 record sets of previously unknown origin
Upcoming Programs
June 21-24, 2021, 10:00 a.m.–12:00 p.m. EDT. A special course through the Gesher Galicia-Gratz College partnership held via Zoom: "THE PATH TO MODERNITY." For the beginners and seasoned genealogists from around the world, this four-part course will explore the social and cultural transformation of Galician Jewry drawing on unique material. To find more about the topics please click here. Since the course has reached enrollment capacity, please contact Lori Cohen (lcohen@gratz.edu) to be placed on a waiting list.


Recent Programs
Tuesday, April 6, 2021, 7:00 p.m.– 8:30 p.m. EDT. The University of Connecticut, Stamford: LEGACIES OF EUROPEAN JEWRY: THE SECOND GENERATION AND BEYOND. Moderator: Dr. Frederick Roden, Professor of English and Coordinator of the UConn Stamford Center for Judaic Studies and Contemporary Jewish Life. Panelists: Andrew Zalewski, Gesher Galicia; Leora Tec, Bridge to Poland; Ralph Berger. This program is co-sponsored by Gesher Galicia and open to the public. Register here.

March 23rd, 2021, 2:00 p.m. EDT. Gesher Galicia President Steven Turner was honored to be invited to give a talk by JewishGen entitled, "Highlighting the Partnership Between Gesher Galicia and JewishGen." The partnership between Gesher Galicia and JewishGen is such an important one for the Jewish genealogy community.

Sunday, February 21, 2021, 10:00 a.m. PST (1:00 p.m. EST). A virtual meeting hosted by the JGS of Sacramento featuring Andrew Zalewski, VP of Gesher Galicia who will present JEWISH GALICIA: VIBRANT PAST REDISCOVERED. The talk is of interest to audiences interested in Jewish genealogy and will be illustrated by historical images, archival documents, and maps. Through different sources discover the largest Jewish community in multiethnic Austria-Hungary. To join click here.
---
Gesher Galicia is a partner of the following organizations: