Members' Towns in Galicia
Below is an alphabetical list of towns that Gesher Galicia members are researching. It does not contain every town that was in Galicia. To view our Galician Town Locator, which covers over 6,000 Galician towns that existed in the year 1900, click here.

We update this list with new towns as members join or notify us of their research interests. If you don't find your town listed below, use the search box in the upper right-hand corner of the website, which will bring up alternate names for every town.

To see if we have indexed records for your town, go to the All Galicia Database and view the scrolling list on the left hand side labeled "Record Sources" to look for your town name.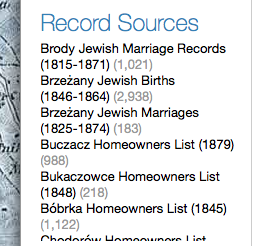 Towns Beginning with A
Towns Beginning with B
Towns Beginning with C
Towns Beginning with D
Towns Beginning with F
Towns Beginning with G
Towns Beginning with H
Towns Beginning with I
Towns Beginning with J
Towns Beginning with K
Towns Beginning with L
Towns Beginning with M
Towns Beginning with N
Towns Beginning with O
Towns Beginning with P
Towns Beginning with R
Towns Beginning with S
Towns Beginning with T
Towns Beginning with U
Towns Beginning with V
Towns Beginning with W
Towns Beginning with Y
Towns Beginning with Z