() () ·
Research Corner – Volume 17, Issue 3
by Pamela Weisberger
IAJGS Conference Update for Galitzianers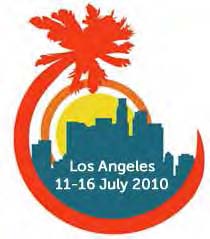 Have you registered for the IAJGS International Conference on Jewish Genealogy yet? It's not too late! The conference will take place in Los Angeles, California from 11–16 July and promises to be one of the most comprehensive and entertaining genealogical events in recent memory. More than 300 lectures and 50 films, plus workshops, computer labs, theatrical performances, and more from early morning until late evening. Many programs will be geared toward Galician, Polish, and Ukrainian researchers. All kinds of lectures on methods. Incredible opportunities to further your Holocaust research. Constant opportunities to network with landsleit from other Galician shtetlach and towns. For program details go to http://www.JGSLA2010.com/ and click on the Programs tab.

Gesher Galicia's dedicated Special Interest Group (SIG) day will be Monday, 12 July, with lectures from morning until early evening focusing on the intricacies and challenges of Galician research. Our luncheon speaker will be Chris Nicola, talking about "The Secret of Priest's Grotto: A Holocaust Survival Story." Priest's Grotto was part of a 77-mile cave system in Ukraine, and after Nicola discovered that Jews had hidden there during WWII he set out to track down the survivors—which he did successfully, after several years of intensive research.

Suzan Wynne and Mark Halpern will conduct a two-part "Getting Started in Galician Research" lecture. The first session will be on Monday, 12 July, and the second session on Tuesday, 13 July.

Federation of Eastern European Historical Societies (FEEHS) Vice President Brian Lenius will be on hand to explain and analyze cadastral maps and landowner records from the Austro-Hungarian Empire. He'll give two lectures on these topics, as well as host a "pushcart" filled with maps at our Market Square Fair on Sunday, 11 July. Later that day he'll discuss "The L'viv Archive Research Experience" in an illustrated slide show that takes you behind the scenes of this repository housing thousands of Galician vital, land, and tabula/notary records.

Two well known L'viv-based Ukrainian researchers and guides, Alexander Dunai and Alexander Denysenko, will give talks dealing with Ukrainian research and travel, as well as be available for personal consultations on trips or research you might be planning.

[not-level-gesher-galicia-member]

Gesher Galicia members,

log in

to read the rest of this Galitzianer article.

Not a member?

Join today

and get access to almost two decades of back issues!

[/not-level-gesher-galicia-member][level-gesher-galicia-member]

The Austria–Czech SIG once again is sponsoring speaker Mag. Wolf-Erich Eckstein, director of the Israelitische Kultusgemeinde Wien (IKG). The IKG houses the Matriken (record books) of birth, marriage, and death records for the Jewish community of Vienna from 1826 onward, and Eckstein will make the IKG's private database available at the conference, along with information on the Jewish cemetery of Vienna. Although Vienna was not part of Galicia, Galitzianers always had close ties to this city. Many of our ancestors passed through Vienna—or stopped there for a year or two—en route to America. Their life-cycle events are represented among the record books held by the IKG. In many cases Galitzianers who had been married only in a religious ceremony found it expedient to have a civil marriage take place in Vienna ten to thirty years later. This "legal marriage" or "convalidation" (as Eckstein calls it) meant that their "illegitimate" children could be legitimized and could, more importantly, legally take their father's name instead of carrying their mother's name. For many researchers, finding these records has resulted in solving mysteries going back hundreds of years.

We are offering preorders for books by two conference lecturers, Brian Lenius and Judith Frazin, whereby you can order your book now and they will bring it to the conference for pick-up there, saving you a shipping charge. These books can be signed as you desire. Go to the IAJGS Conference site, http://www.JGSLA2010.com/, for more information under Programs.
Cadastral Map and Landowner Records Project Phase 4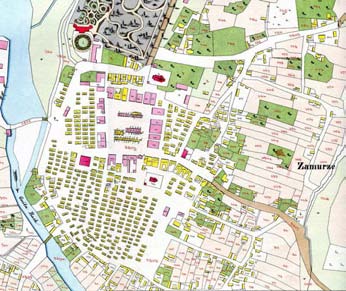 Brian Lenius will travel back to L'viv in early June for ten days of researching landowner records and maps. We expect to carry over work from our Phase 3 list that he could not get to either because of time constraints or because the books or maps were ordered from the archive and never reached the reading room. He will take new town names to be inventoried, the first step prior to ordering the books and records for the town. This painstaking work—going through the card catalog to see what records exist and noting them—can take place if a donation of $250 is received, whether from a single individual or a town group. Once the target $250 amount has been received, Gesher Galicia will donate a matching amount of $250. This amount is enough to cover both the initial inventory and the acquisition of either a map or record. Based on the town size, sometimes additional funds are needed, but we keep you apprised of these estimates along the way.
If you want to add your town to the inventory list and/or volunteer to act as a town leader, contact me as soon as possible at pweisberger@hotmail.com.
If your town was part of Phase 3, Gesher Galicia will be contacting you with a funding update soon so you know where your town stands in the queue for obtaining records or maps. We also need indexing volunteers for the information in these records. If this work interests you, please contact me.
L'viv House and Street Photography Project, July 2010
Last summer Dick Koops, a vocational education advisor from the Netherlands with an interest in Jewish history and culture who was spending his summer vacation in L'viv working on a social service project, kindly volunteered to photo- graph houses and streets in L'viv based on requests from our members. These photos are available for viewing at http://www.jewishgen.org/galicia/projects/lviv_photography_project/.
He is returning this summer and is willing to take new requests based on addresses where your relatives once lived. Although the actual building might not exist any more, sometimes having even a view of the street where your ancestors walked can be meaningful. You can file a request by writing to Gesher Galicia board member Shelley Pollero, who will compile the list. Her e-mail is geshergalicia@comcast.net. After the photos are posted, please add the details about who lived in these places and their stories. In addition to names and dates I would like anecdotes of events that occurred in the apartments or businesses at these addresses. It's the stories that bring a street or apartment to life. The "due date" for this project is 30 June 2010.
Gesher Galicia New York City Regional Meeting 18 April 2010
We had a nice turnout for our annual New York City meeting, held for the first time in the spring. Holocaust survivor Feige Hollenberg Connors joined us to tell her story, "A Galician Childhood Remembered." Feige was born in Korolowka in 1933. In addition to a house on the market square, her family had farmland outside of town, inherited from her Rosenstock grandfather. She led an idyllic childhood until war broke out and her family had to go into hiding. We heard her first-hand account of what it was like to grow up in this shtetl until, at age 14, she was hidden by a Ukrainian family that later betrayed her, escaped from the ghetto and labor camp, and survived in the forest until the war's end. Feige returned to Korolowka last summer with cave explorer Chris Nicola, and a documentary film about the survivors of that town is planned for the future.
We love to take Gesher Galicia on the road! If you are interested in bringing a Gesher Galicia meeting to your town, please contact me.
Ternopil Archive Map Update
Gesher Galicia is working with Alexander Dunai to obtain cadastral maps from the State Archives of the Ternopil Oblast. In many cases, no maps have been found for towns in the L'viv archive but were discovered, in glorious color, in Ternopil. Alex was recently successful in obtaining maps for Grzymalow, Skala, and Zborow. These are full-color cadastral maps, showing elegantly sketched details of bridges, trees (with shadows!), cemeteries, synagogues, churches, rivers, and more. Names appear on some of the maps. These will be posted online soon and distributed to town project contributors. We're especially excited because two of our members, Ann Harris (Zborow) and Racheli Kreisberg (Skala), are working on "house numbers projects" (previously detailed in The G) for these towns; if they make progress in their work based on the acquisition of these maps, we will include their breakthroughs in future issues of The G.
Hope to see all of you in July 2010 in Los Angeles!
[/level-gesher-galicia-member]