Przemyśl Identification Project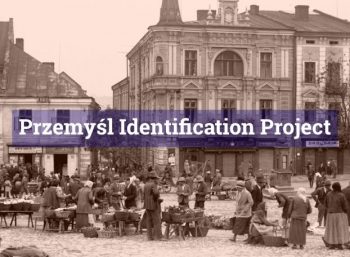 Gesher Galicia's longer-term operation to identify 577 Jewish record books of unknown origin housed in the Przemyśl State Archive in Poland was launched on October 30, 2019. With the approval of the Polish State Archives the project is being managed by Gesher Galicia's "Przemyśl Identification Project" secretariat in Poland, under the coordination of Piotr Gumola, and in cooperation with the Przemyśl State Archive.
The project
The project is concerned with index books of vital records (births, deaths, marriages), including some index books of unspecified type, as well as with a few books of community records. While the dates and most of the record types relating to each book are known, information is lacking as to their geographic origin. Most of the books, though, are presumed to be from towns in the former Galicia. Identifying the source of each of book has already led to some interesting genealogical discoveries for Galician researchers.
A complete list of the index books in the project can be found within the online inventory for Fond 154 of the Przemyśl State Archive, in the "Inventories" section of the Gesher Galicia website. [If you do a search in this inventory table for the text "unknown", you will see a list of all 577 books in the project.]
To date, 557 books have been identified and verified. Towns from which books have been identified as originating include:
Biała Podlaska, Biały Kamień, Biecz, Bobowa, Bochnia, Bolechów, Borysław, Brzeg (Silesia), Bursztyn, Czortków, Dobromil, Dobrotwór, Drohobycz, Horodenka, Hussaków, Jarosław, Jaworów, Klasno, Kołomyja, Komarno, Kopyczyńce, Korczyna, Kozłów, Kozowa, Krakowiec, Kraków, Leżajsk, Lublin, Lutowiska, Lwów, Mielnica, Mikulińce, Mosty Wielkie, Muszyna, Nadwórna, Nowy Sącz, Nowy Wiśnicz, Obertyn, Olesko, Podgórze, Pruchnik, Przemyślany, Rohatyn, Rozdół, Rzeszów, Sądowa Wisznia, Sambor, Sieniawa, Sokołów Małopolski, Skała, Skałat, Skole, Stanisławów, Stary Sącz, Stary Sambor, Stryj, Strusów, Strzeliska Nowe, Śniatyn, Świrz, Tarnopol, Trembowla, Turka, Tyczyn, Zabłotów, Załoźce, Złoczów, Żabie, Żołynia, Żółkiew, and Żydaczów.
The results of new identifications of these presently unknown books are provided to members in the members-only area of this website, and also shared, of course, with the Przemyśl State Archive.
Our collaborators and participants
We wish to thank our colleagues in the Przemyśl State Archive, including Elżbieta Laska, director of the archive, and Ewa Grin-Piszczek, head of the cataloging and archival preparation section, for their collaboration in the project. We are grateful too to all those who have actively contributed to the project in various ways, including:
Viv Bayer, David Birnbaum, Nancy Blodinger, Steven Buzil, George Celler, Peter Dreifuss, Sharon Duckman, Joyce Eastman, Alex Feller, Nancy Fisher-Allison, Eva Floersheim, Scott Genzer, Judith Goldsmith, Jan M. Groński, Piotr Gumola, Ann Harris, Jacob Heisler, Martin Isserlis, Mark Jacobson, Steven A. Joyce, Tony Kahane, Jeff Kaiser, Ronald Kaplan, Shlomo Katz, Fred Kolbrener, Joan Krotenberg, Robinn Magid, Michał Majewski, Eli Marcus, Paweł Malinowski, Lori Rosen Malott, Russ Maurer, Moishe Miller, Sławomir Postek, Kaye Prince, Jacob Rosen, Philip Rosinsky, Liz Rothman, Dan Rottenberg, Dov Rubin, Valerie Schatzker, Judith Silver, Renée Steinig, Leah Teicher, Sherri Venezia, Jacob Walzer, Ruben Weiser, Michael Werner, Franklin Wiener, Suzan Wynne, the Pamela Weisberger Memorial Fund, and the San Francisco Bay Area Jewish Genealogical Society.
Support for the project
Any support for the Przemyśl Identification Project will be much appreciated. Donations by credit card or PayPal may be made online, through the Gesher Galicia website, by clicking here.
Donations by check should be in US dollars, drawn on a US bank, made payable to Gesher Galicia, Inc., with the purpose of the donation indicated, and mailed to:
Gesher Galicia
c/o Ms. Darcy Stamler
3740 Moore Street
Los Angeles, CA 90066
We are grateful for the financial support the project has already received, which includes a generous donation from the San Francisco Bay Area Jewish Genealogical Society.
Updated: April 27, 2021
<< Back to the Overview of Gesher Galicia's Research Projects