Annual membership in Gesher Galicia is open to all.
(Choose an individual membership or, if you area non profit research group, JCC, genealogical society or library, please choose an organizational membership.)
The primary benefits of the annual membership are:
Subscription to The Galitzianer, a quarterly journal focused on Galicia, covering topics of interest to Jewish family historians, and access to almost two decades of back issues online. (Different rates for e-subscription of paper copies.  Organizations can only receive paper.)
The Gesher Galicia Family Finder:  list your names and towns of interest and start connecting with other researchers!  (available to individuals only, no organizations.)
Gesher Galicia Matching Grants & Research Projects:  Members starting town research projects with a total $250 contribution (from one or many people) will recieve a $250 matching grant from Gesher Galicia's treasury to start acquiring, digitizing and indexing records and cadastral maps.  We organize the research on your behalf and all researchers benefit.
Plus…individual members get password access to the new Gesher Galicia Members Portal!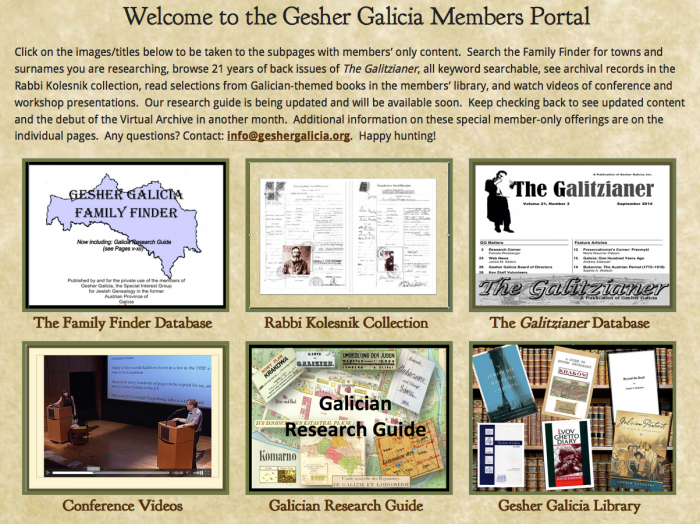 Just log in from the home page and then click on any square to go to the dedicated sub-page, each of which offers new features. (Click the to view a full size image.)
The Family Finder
You can do easy, targeted searches for other members researching your surnames and/or your towns.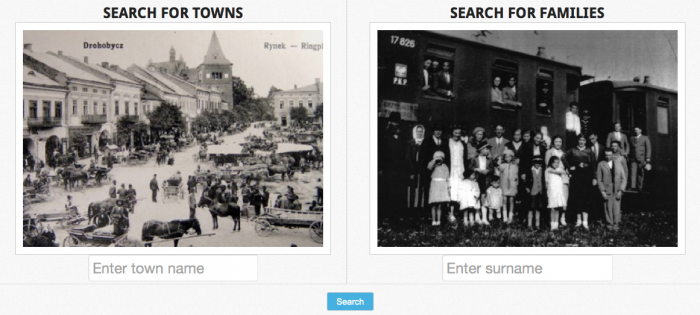 Targeted searching, and simple downloads of contact emails, will make it easier to network and start town projects.
The Galitzianer Search Engine

All the back issues of The Galitzianer are now keyword searchable. Search on town names, surnames, historical terms or groups of words. The results will display a few lines of the article in which they are found. The issue/volume number indicates what year the article was published. Click through and you are taken to the full issue with a prompt to tell you on which page your search term appears.
The Rabbi Kolesnik Collection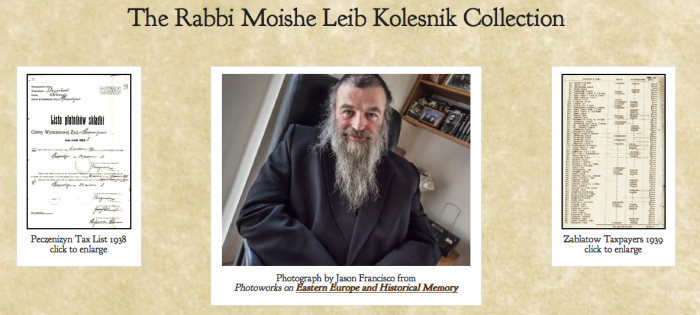 You'll find links to scans of the following original records from this Stanisławów (Ivano Frankivsk) District collection, with new records due to be uploaded over the next few months.
Taxpayers from Zablotow (1939)
List of Industrial Enterprises & Their Owners – Stanisławów area (1925-1939)
Marriage Records from Zablotow (1937-1938)
List of Rabbis in Stanislawow Area (1937-1938)
Death Records from Zablatow (1937-1938)
Taxpayers of Peczenizyn (1938)
Taxpayers from Tlumacz (1936)
Taxpayers from Ottynia Area (1938)
Taxpayers from Yezupol (1934)
Candidates for Election from Kolomyya (year unknown)
Taxpayers from Solotwina Area (1938)
People Registered to Vote in Mariampol (1933)
List of Taxpayers from Kolomyya (1939)
Taxpayers in Mariampol (1934)
Snyatyn Birth Records (1937)
The Gesher Galicia Online Library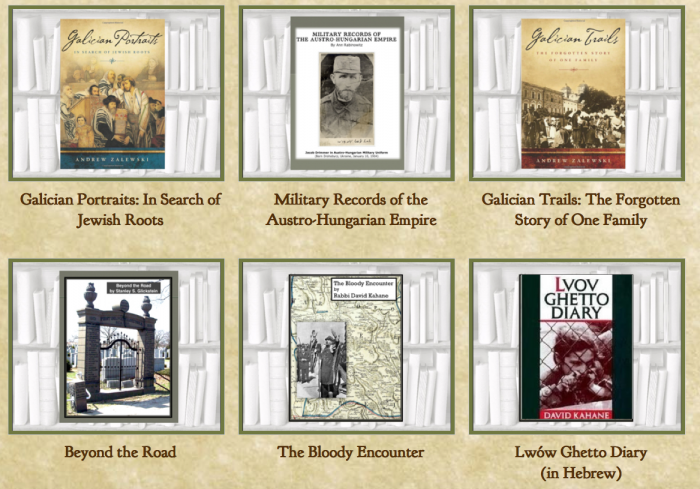 The Gesher Galicia Members Library offers complete books, partial excerpts from books, and important research articles. Included are excerpts from Andrew Zalewski's two books, Galician Portraits: In Search of Jewish Roots, and Galician Trails: . There is also a special article by Ann Rabinowitz about military records, and two books by the late Rabbi David Kahane: The Bloody Encounter, (Hebrew and English) is a short memoir about the systematic destruction of Jews in the towns of Lwów Tarnopol, Stanisławów, Skalat, Grzymałów and Złoczów during the Holocaust, based on eyewitness accounts and stories. Lvov Ghetto Diary, presented in its original Hebrew version, bears witness to the systematic destruction of some 135,000 Jews in the Ukrainian city of Lvov, formerly Lemberg, during the Holocaust. Kahane escaped death because he was hidden by the Ukrainian archbishop of the Uniate Catholic Church. His wife and young daughter were also given refuge, separately, in Catholic convents. The memoir covers the period from July 1, 1941, when the Germans occupied Lvov to July 27, 1944, when the city was liberated.
Members Video Portal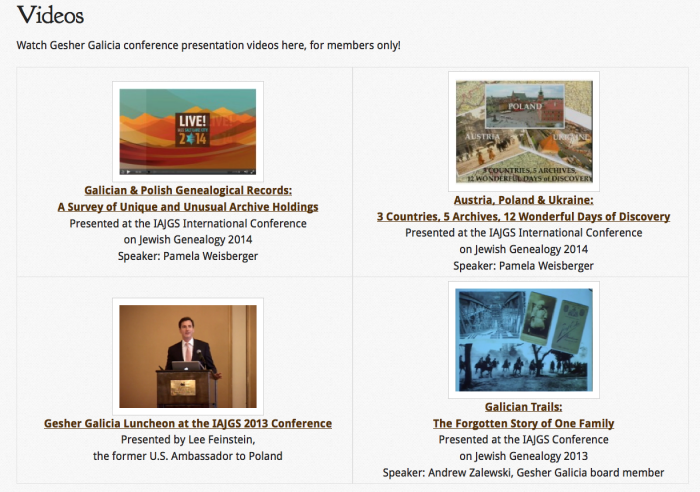 Although we have a large selection of free videos available on the home page video link, these "members only" videos can be accessed only via the Portal link. These include the luncheon talk by Ambassador Lee Feinstein at the Boston 2013 Gesher Galicia luncheon, Andrew Zalewski's talk on his book, Galician Trails: In Search of Jewish Roots, and two methodology talks also given in Boston.
The Research Guide
Under construction, but coming very soon!
Why is Members Portal searching different from all other searching on the GG home page?

You can still do global site searches right from our home page search box. The difference is that instead of getting results spanning everything on our site, including all of our databases, you can now do a targeted search with specific databases (similar to searching JewishGen's Family Finder) including the Gesher Galicia Family Finder and back issues of The Galitzianer.
Note: If you represent a library, repository, Jewish Genealogical Society or other research organization, the only membership option will be an "Organizational Subscription." We do NOT offer a library membership which includes members portal access and passwords for your patrons. We only offer a paper copy subscription to The Galitzianer for your membership at $42 for U.S./Canada or $49 for international subscriptions. Gesher Galicia can, however, provide a copy of our research guide for you to offer in paper form to your members to use in their research. Once you've joined, contact info@geshergalicia.org to receive this guide (available after April 1, 2015.) If your members want to enter their personal research data to our Family Finder and connect with other researchers, they must sign up for their own individual memberships. To join, click here.
For more info on membership contact: info@geshergalicia.org
For questions or problems with your ongoing membership, contact our membership chair, Ben Tysch directly: bentysch@gmail.com.
E-Newsletter
All Gesher Galicia members will be subscribed to our E-Newsletter, which periodically notifies you of programs of interest, research developments and new additions to the website, including database updates and record acquisitions.
E-Mail Discussion Group
Our free e-mail discussion group is sponsored by Gesher Galicia and hosted by JewishGen
Facilitates networking among Jewish genealogy researchers with a common interest in Galicia
Provides a forum for the dissemination of information about research, methods, records, Yizkor books, etc. about Galicia.
Open to all, membership in Gesher Galicia, Inc. is not required to subscribe and participate in the discussion group.
Subscribers must be registered (free) on JewishGen.
Subscribers are responsible for managing their own subscription, including changing email addresses and unsubscribing.
Read our Discussion Group FAQ (Frequently Asked Questions)
To subscribe, click here, scroll down almost to the end, and click on Discussion Group Mailing Lists. Follow instructions, then choose Gesher Galicia SIG.
Gesher Galicia Souvenirs