From Volume 9, Number 4 (August, 2002) · Book Reviews
Book Review: 'Together and Apart in Brzezany: Poles, Jews, and Ukrainians, 1919–1945′, by Shimon Redlich
by Marco Carynnyk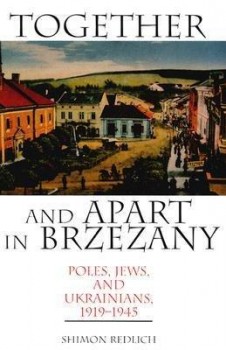 Galicia, the land in the basin of the Dniester River between the foothills of the Carpathians and the great plateau of Podillia.
For Poles it was Malopolska Wschodnia, Eastern Little Poland, or the kresy, the borderlands. It had been part of the Polish realm since 1386. Polish poets wrote odes to the kresy. This land was not—never would be—anything other than Polish.
For Ukrainians it was Halychyna, but not Ostgalizien, Eastern Galicia, not a part of Poland. They had lived here for a thousand years; they had always constituted the majority of the population; their prince had founded the town of Halych for which the land was named. Its destiny was to be united with the "greater Ukraine" across the border.
Jews had lived in Galicia for half a millennium; they had a religion and a language—in fact, two languages—of their own, but their relation to the land was more ambiguous, the choices more difficult. Bundists argued that Jews should develop their community where they were. Assimilationists urged them to become Austrians or Poles. Zionists said that they were a nation, a people, and could fulfill their destiny only in Eretz Israel.
The Second World War swept away these conundrums of identity. The Jews of Galicia were annihilated. Galicia became what the Poles had feared—"Western Ukraine," a part of Soviet Ukraine and thus of the indivisible Soviet Union. Population transfers—Poles to the west, Ukrainians to the east—established an almost total ethnic purity. The few Jews who survived the war followed the Poles to the new Poland and then went on to Israel and the Americas.
Gesher Galicia members,
log in
to read the rest of this Galitzianer article.
Not a member?
Join today
and get access to almost two decades of back issues!