IAJGS Conference Update for Galitzianers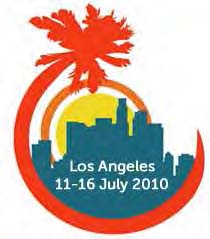 Have you registered for the IAJGS International Conference on Jewish Genealogy yet? It's not too late! The conference will take place in Los Angeles, California from 11–16 July and promises to be one of the most comprehensive and entertaining genealogical events in recent memory. More than 300 lectures and 50 films, plus workshops, computer labs, theatrical performances, and more from early morning until late evening. Many programs will be geared toward Galician, Polish, and Ukrainian researchers. All kinds of lectures on methods. Incredible opportunities to further your Holocaust research. Constant opportunities to network with landsleit from other Galician shtetlach and towns. For program details go to http://www.JGSLA2010.com/ and click on the Programs tab.
Gesher Galicia's dedicated Special Interest Group (SIG) day will be Monday, 12 July, with lectures from morning until early evening focusing on the intricacies and challenges of Galician research. Our luncheon speaker will be Chris Nicola, talking about "The Secret of Priest's Grotto: A Holocaust Survival Story." Priest's Grotto was part of a 77-mile cave system in Ukraine, and after Nicola discovered that Jews had hidden there during WWII he set out to track down the survivors—which he did successfully, after several years of intensive research.
Suzan Wynne and Mark Halpern will conduct a two-part "Getting Started in Galician Research" lecture. The first session will be on Monday, 12 July, and the second session on Tuesday, 13 July.
Federation of Eastern European Historical Societies (FEEHS) Vice President Brian Lenius will be on hand to explain and analyze cadastral maps and landowner records from the Austro-Hungarian Empire. He'll give two lectures on these topics, as well as host a "pushcart" filled with maps at our Market Square Fair on Sunday, 11 July. Later that day he'll discuss "The L'viv Archive Research Experience" in an illustrated slide show that takes you behind the scenes of this repository housing thousands of Galician vital, land, and tabula/notary records.
Two well known L'viv-based Ukrainian researchers and guides, Alexander Dunai and Alexander Denysenko, will give talks dealing with Ukrainian research and travel, as well as be available for personal consultations on trips or research you might be planning.
Gesher Galicia members,
log in
to read the rest of this Galitzianer article.
Not a member?
Join today
and get access to almost two decades of back issues!