Gesher Galicia proudly announces the completion of the indexing of the Tarnopol 1910 Jewish Census, the last official Galician census conducted by the Austrian government.
To view the list of surnames found in this enumeration, click here. To view the list of street names click here. To donate to this important project click here. To read about donation levels scroll down.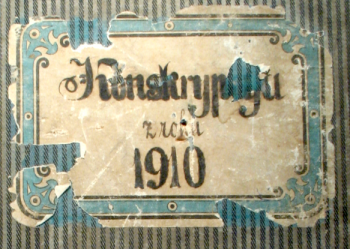 Although the Austrian Empire – and the Polish government, which followed after the collapse of the Empire – conducted censuses over an eighty-year period, very few original enumerations with names have survived. Tarnopol, a large city about 128 miles east of Lemberg (Lwow, Lviv,) attracted residents from all over Galicia, and even further afield, so the 1910 census is one of the more important records of its kind for Galician researchers and academics.   Containing almost 14,000 names, it enumerates every Jewish resident living in Tarnopol in 1910, along with information on people who had moved away permanently, or were studying in other locales, provided by family members.   Entire households are listed together with house numbers, professions, and ages, with relationships clearly delineated.
Categories and comments covered are:
• Old house number
• Current street name and address
• Place of birth
• Relationships
• When the individual moved to Tarnopol, if not born there
• Town where registered (or where relocation occurred – important because often the births of children from one family could be registered in different places.)
• Occupation (Polish with English translation)
• Listing religious marriages, versus civil marriages in the terms "ritual wife"
• Disposition of children who were orphans
• Details on former residents who had emigrated from Galicia to other countries, or were attending schools elsewhere, provided by their family members
• Profession or "status," including details like "widow" or "widower"
Researchers will find women enumerated as "ritual wife," clarifying that there was a religious marriage, but that the woman did not share her husband's surname.  (Since no marriage record would be found for this couple, the census provides proof of the religious marriage.) Dual surnames are provided for children, along with adults –heading their own families — whose parents had not participated in a civil marriage.  In these pages it is common to find people born elsewhere and moved to Tarnopol, and, conversely, those families who had already left the city for other countries, so this census should provide clues as to the migration of your relatives.  It lists many people who "were absent" to "America" or "New York, America." Other locales where residents moved (sometimes listed as cities, other times as countries) are: Cologne,  Frankfurt, Russia, Germany, Vienna, Lwow, Prague, London, England, Switzerland, Argentina and Jerusalem.  Original places of birth are from all over Galicia, as well as towns in Germany, Romania, Vienna, New York, Kiev, Warsaw district and Hungary. House numbers are cross-referenced with a street address.
In the "occupation" category, besides the expected entries –including merchants, tinsmiths, tailors, innkeepers, lawyers, and doctors, tradesman — we find "students in Vienna" at seminaries, including "cesarski krolewski" (imperial-royal; similar to "kaiserlich-königlich", k.k.) and children listed as "residents of the Jewish orphanage." As researchers begin to study this census there are sure to be more illuminating findings that could be the key to unlocking a family mystery or discovering relatives previously unaccounted for and lost to time. Gesher Galicia has indexed all pertinent information from this census, so the database will be quite extensive and useful.
Gesher Galicia had the census indexed professionally, and we expect to publish the data in the middle of January 2014 on the All Galicia Database, where it can be freely searched.
The cost of indexing is expensive, so we are encouraging donations in advance of publication to help defray costs.  We hope that researchers will appreciate the great benefit of having this new resource and in return for their generosity, we are offering special bonuses for contributors, including early access to the data, via the Excel spreadsheet along with the ability to view the actual census images.  We expect the images and spreadsheets to be ready by late December to contributors. These will be uploaded to a password protected server, and you will be sent login information at that time.
DONATIONS & BENEFITS
There are many ways to contribute to this effort. If you want to view the images of this census and view the Excel spreadsheet once completed (so you can sort and search data,) or simply obtain scans of the pages where your ancestors appear, we offer the following funding levels:
$180: You will receive a password to view the census images and a copy of the Excel spreadsheet once ready – most likely by late December.
$100: You will get a copy of the Excel spreadsheet in late December and 20 scans of census pages requested from our staff starting in February.
$50:   You will get 10 pages of scans you request from our staff starting in February.
(Requests for scans can be submitted starting February 1, 2014. A form will be provided to donors.  If you are a member of Gesher Galicia you can also receive two additional free scans so remember to renew your membership soon!)
Every entry is linked to an image number, so these donation options offer you many levels to easily expand your research.  To view the Tarnopol 1910 Census project page with images of the actual census, annoated, and an example of the Excel spreadsheet, go here:
Keep in mind that the data will be free to everyone via the All Galicia Database. The donations provide you with extra benefits and are completely optional, but they are important for Gesher Galicia's continued archival work and are tax deductible in the United States. (These are minimums; so if you are feeling especially generous and want to help us cover our costs in funding this work, feel free to give more.)
Keep in mind that as recently as ten years ago this census was inaccessible to researchers. It is a wonderful accomplishment not only that it is now available in searchable form, but that it can stand as a testimony to the many Jewish residents of Tarnopol who perished in the Shoah, whose names are represented in its pages. Almost 90 percent of the Galician population perished in the Holocaust, and many of the residents of Tarnopol, which suffered extreme devastation in both World Wars, are memorialized in this enumeration. If you experience genealogical success in studying the 1910 Tarnopol Census, please let us know so we can report on your findings and celebrate them as well.
A more complete description of all our research projects can be found here:
http://www.geshergalicia.org/projects/garp/
Click HERE to go to our donations page — or use the DONATE link on our home page.
Please note: if you are paying by PayPal or credit card — make sure to indicate that your donation is going to the "1910 Tarnopol Census" project. If you send a check to our treasurer, Ann Harris, please include a note, along with your email.
Ann Harris, Treasurer – Gesher Galicia
1522 So. Point View, Apt. 2
Los Angeles, CA 90035
aharr14@pacbell.net

Because GG member dues helped to fund this project, we ask that anyone donating to the Tarnopol 1910 Census Project also become a Gesher Galicia member. If you are not yet a member you can join here: Click Here
QUESTIONS?
Specific project or researcher questions, contact:
Pamela Weisberger: pamela@geshergalicia.org
Check donation questions, contact:
Ann Harris: aharr14@pacbell.net
GARP Project and Paypal/credit card donations questions:
Shelley Pollero: geshergalicia@comcast.net